If a supplier is already in use at a location the nominal code information, configured on the Edit Details tab, is required to be updated to site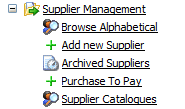 Fig 1 - Supplier Management Link
To update the nominal code to site select Supplier Management > select the appropriate supplier.


Fig 2 - Where Used Tab
Select the Where Used tab and the link to Update Nominal Code to Site


Fig 3 - Update The Nominal Code to Site
Select Step 2 and Finish to complete this action, once updated the configured nominal code is updated to site level, therefore this information will appear on an invoice export for this supplier, if used
Note: It is important to enter any specific information against a supplier to prevent user error and to ensure that delivery schedules are adhered to.
Best practice is to edit any details before the supplier is assigned to site, if any changes to the information is required the details must be updated to site.
Also See