Overview
For a product to be purchased from the supplier it must first be assigned to the site. Suppliers can be selectively assigned to site - e.g. beverage supplier only to the beverage location - making the ordering process straightforward for users. Suppliers must only be assigned to sites that order goods directly and are not required to be added to sites that only receive internal transfers within the organisation.
The article outlines the best practice method for adding a supplier to site.
Before Adding a Supplier to Site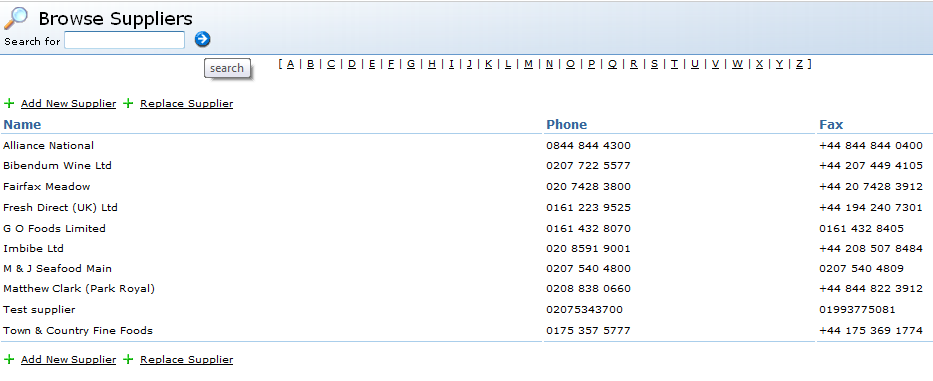 Fig 1 - Existing Suppliers
Search the supplier list to check that the supplier is available on the system. If the supplier does not exist it will need to be added to the database

Fig 2 - Browse Suppliers Page
If the supplier does exist then move on to the next steps
Adding a Supplier to Site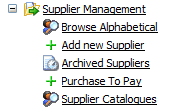 Fig 3 - Supplier Management Link
To add a supplier to the site select Supplier Management and then select the appropriate supplier

Fig 4 - Searching for a Supplier
Select the appropriate supplier, the line will be highlighted blue. Once selected the system will show details specific to that supplier that can be configured per organisation – these details should be edited before adding a supplier to site level.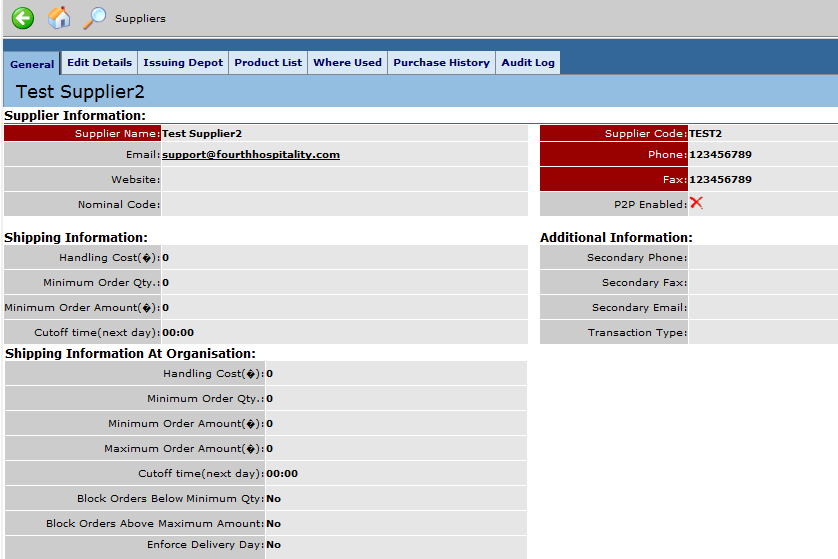 Fig 5 - The General Tab for a Supplier
When the supplier details have been configured the supplier can be added to the appropriate sites by selecting the Where Used tab.

Fig 6 - Where Used Tab
Select the Where Used tab and the link to Add Supplier to Site/Change Depot to assign the supplier to site level to allow users to process orders to this supplier.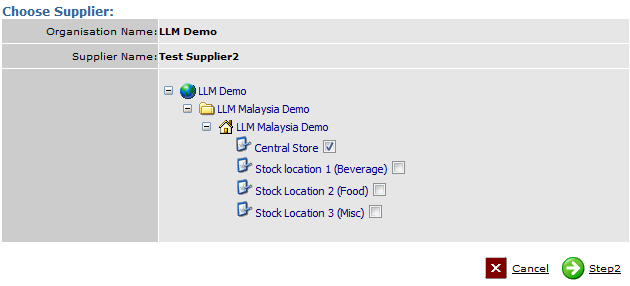 Fig 7 - Adding the Supplier to a Site
Tick the site that the supplier needs to be added to and select Step 2 and Finish to complete this action.

Fig 8 - Supplier Added to Site
Once added the supplier will appear on the Where Used tab.

The supplier is now assigned to the specified location with the given details.

The supplier will now be available for users to place an order with for any relevant products that have also been assigned to the site
Adding Supplier Customer Numbers to Purchase Orders
It is possible to configure the system so that purchase orders contain the suppliers' individual customer numbers for the sites that placed them.
It can be helpful to have these numbers visible on each order so that the suppliers can quickly identify their customers without having to manually search by name, postcode, etc.
Log in to FnB at Site level

Go to the Stock Management tab

Select Manage Suppliers

Select the required supplier and then Edit

Populate the Customer Account Number field and Save changes

Repeat as necessary
Also See