The System is designed to help those in the hospitality industry manage their purchasing, stock control and time.

It is important when stock counting that the process is easy and straight forward for users of the system therefore using the system
generated stock tally sheet to count the stock will ensure that the stock entry process is as quick and easy as possible.

Location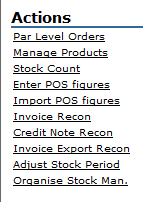 Fig 1 - Stock Count Link
Follow the path: Stock Management Page > Stock Count link.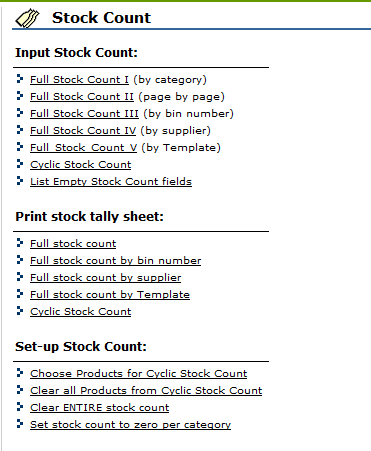 Fig 2 - Stock Count Page
Print Stock Tally Sheet Options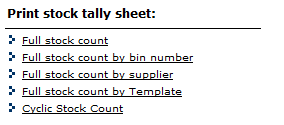 Fig 3 - Print Stock Tally Sheet Options
The stock tally sheet is available to print in a number of ways, dependent on the interface selected the products and batches will appear in a different order on the sheet.

Fig 4 - Full Stock Count Option
​Full Stock count by category will display all products and bathes grouped by category and alphabetical within that category

Fig 5 - Full Stock Count by Bin Number
Full Stock count by bin number populates products in bin number order; any products that do not have a bin number assigned will be populated in alphabetical order after all products with bin numbers assigned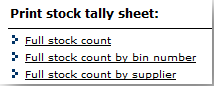 Fig 6 - Full Stock Count by Supplier
Full stock count by supplier all products are listed per supplier, by category and then alphabetical within the category
Note: Any batches to be counted will be populated first if all suppliers are selected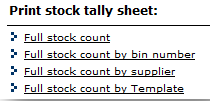 Fig 7 Full Stock Count by Template
Full stock count by template all products are listed in a specific order as per the stock count template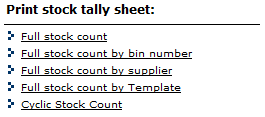 Fig 8 - Cyclic Stock Count
Printing Options
When printing the stock tally sheet using the full stock count link a number of different configuration questions are displayed to select when printing the stock sheet. Each interface option has 5 standard configuration queries, however there are some bespoke queries based on the interface option selected.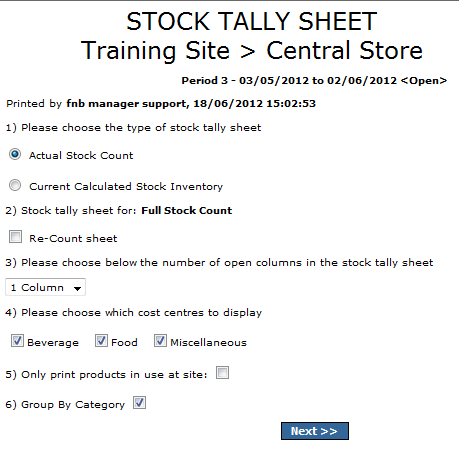 Fig 9 - Print Options
When a stock count interface is selected for counting the stock a number of additional questions are asked to allow customisation of the stock tally sheet based on preference or requirement.

Fig 10 - Stock Tally Sheet Type Option
The system allows the count of an actual stock take, or the ability to print the current (theoretical) calculated stock inventory (based on user access level).

Fig 11 - Stock Tally Sheet with Current Calculated Stock Inventory
Selecting to print a stock tally sheet to display the current calculated inventory will display the theoretical closing stock value based on opening stock, purchases, transfers & sales.

Fig 12 - Full Count vs. Re-Count Sheet Option
The system will default to printing a full stock count, however there is the option available to select re-count sheet if an initial count has been completed and entered and specific products are required to be re-counted (based on user access level)

Fig 13 - Printed Re-Count Sheet
When a stock count has been entered, if a re-count sheet is selected any products displaying a difference in closing value to theoretical closing value will be displayed on the count sheet. The closing value entered and the difference been the actual closing value & theoretical closing value is displayed

Fig 14 - Number of Columns Option
It is possible to select up to 9 columns to be displayed on the stock tally sheet, this allows the counting of multiple stock areas on one count sheet i.e. bar area & cellar


Fig 15 - Cost Centre Options
When printing the stock tally sheet it can be limited to specific cost centres to condense the list and to allow different personnel within the business to count products contained within different cost centres e.g. bar manager to count beverage items and floor supervisor to count miscellaneous items

Fig 16 - Products on In Use At Site Option
The system allows the stock sheets to be condensed to display only products in use at the specific site; this will condense the stock sheet if there is no product activity during the period. If the above option is selected and there was zero populated against the opening stock; there have been no purchases and/or transfers during the period and zero sales for the period the product will not be displayed on the stock tally sheet when this option is selected

Fig 17 - Group By & Sort By Options
The option is also available to group (or un-group) products by category, if this option is selected the products will be displayed by alphabetical order only. Group by category is available when selecting the full stock count interface; also sort by categories is available when selecting stock count by supplier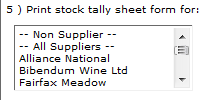 Fig 18 - Suppliers
When selecting full stock count by supplier there is the option to only print a stock sheet for 1 (or more supplier(s)) or to display all products grouped by supplier. Non Supplier products relate to batch items that are treated as products

Fig 19 - Separate Pages Option
When selecting full stock count by supplier is selected the option to print each supplier on a separate page is displayed.

Fig 20 - Template Option
When selecting to print the stock tally sheet by template, the template option for stock count type is displayed and must be selected in order to print a stock tally sheet in the specific order as per the designed template
When the relevant options have been chosen select next and the stock tally sheet will be displayed based on the configuration set.
Other Stock Tally Sheet Configuration
The system also gives the option to stock take by origin if required, although this is not an interface option displayed on the stock count page. In order to stock take by Origin, users must update their personal "Organise Settings" these are adjusted per user. To adjust organise settings per user select manage products > organise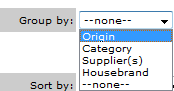 Fig 21 - Group By
From the organise page the option to group products by origin can be selected and the changes saved.
Once the changes are saved select the stock count link and choose the full stock count option when printing the stock tally sheet.

Fig 22 - Printed Stock Tally Sheet Grouped by Origin
The products will be shown sub-divided by origin, if the option to group by category is also selected the products will be displayed by category and sub-divided by origin; if no category grouping is displayed the products will be sorted alphabetically for all products with no origin assigned & then grouped by origin.
Also See