Overview

Theoretical Cost Of Sales Definition
The Theoretical Cost Of Sales (COS) is the optimum cost to the business associated with selling Products according to the Recipes.
The Theoretical Cost of Sales in Enterprise can be different from the Cost of Sales at each site.

This article details the process of how the system generates the Cost of Sales within Enterprise and at Site level.

Enterprise Cost Of Sales

Enterprise Manager calculates the Recipe Cost of Sales (the sum of the ingredients) using the set Cost Model for each product, which defaults as the Highest Supplier cost price unless changed.

To view the Cost Model information, go to the General tab for the relevant Product and see the Cost Model field


Fig.1 - Product Cost Model
The example shown in Fig.2 displays the Master Product '42 Below', which has multiple Supplier relationships with various Purchase Order quantities and cost prices.

When adding this Product to a Menu item in Enterprise, the system will take the cost of the highest Supplier to work out how much the Product cost will contribute to the Menu Item cost due to the Cost Model set up (see Fig.1).



Fig.2 - Product with Multiple Supplier Relationships
In the example shown in Fig.3, Enterprise has used the highest Cost Price to ensure that there will be an acceptable Sales Price (this is set manually) which will be within the predefined target GP.

The cost within this example is £10, which is the highest Supplier cost price for this product.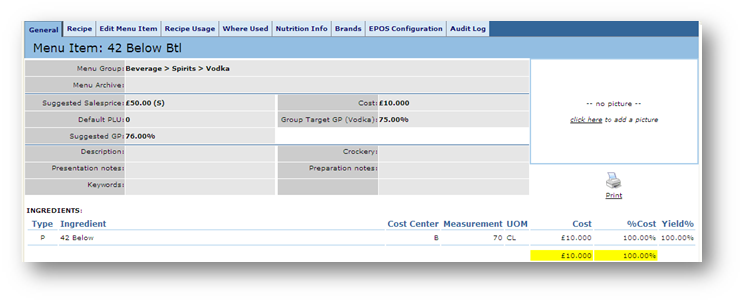 Fig.3 - Derived Menu Item with Costs From The Highest Supplier

Site Theoretical Cost Of Sales

When a Menu Item is added to site, the system no longer uses the highest Supplier Cost Price. The cost from the allocated Supplier to that Site is used instead.

To locate this information, go to the Where Used tab on the Product to view the allocated Supplier

The example seen in Fig.4 shows that at Site 3663, Battersea is the allocated Supplier.


Fig.4 - Product's Allocated Supplier at Each Site
The Theoretical COS for the Menu Item now displays the cost from the allocated Supplier, which is £8.83 in this example.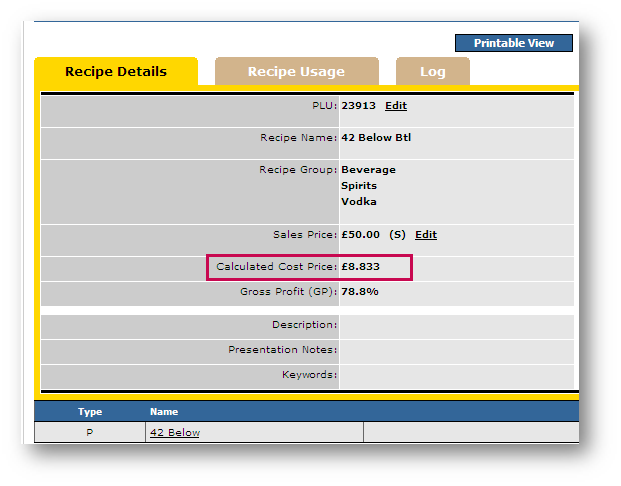 Fig.5 - Menu Item Cost at Site Level

Management Figures vs Theoretical Cost of Sales
Theoretical Cost Of Sales
The theoretical cost on the Management Figures is calculated by the system as follows:

Number of Menu Items Sold (according to the EPOS) x Theoretical COS of the Menu Item for that Site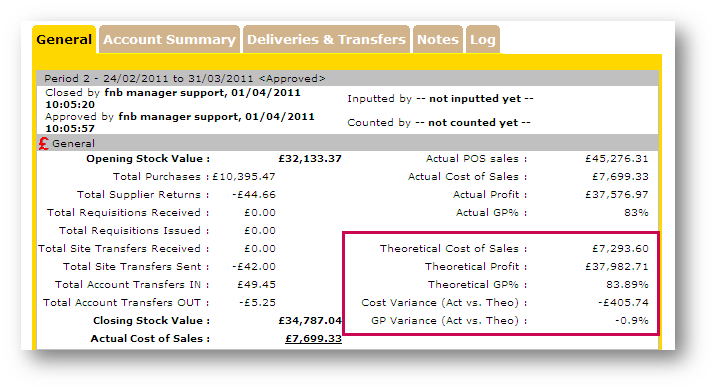 Fig.6 - Theoretical COS Based on EPOS Sales

To ensure that the Theoretical GP is correct, check the following:

The allocated Suppliers for Products at Site are correct, as this is where the cost is calculated from

The correct PLU's on the EPOS are linked with the correct Recipes in FnB

That the correct buttons are selected on the EPOS (no cross ringing) so that the correct Recipes are used to calculate the cost

Sales have been verified to pick up all the costs and Net Sales

Recipes are up to date and correct
Actual Cost Of Sales

The Actual COS does not come from the Recipes, but instead from the movement of Stock within the Period.

The Actual COS is generated within FnB using the Opening Value +/- the Purchases +/- Transfers less than the Closing Value.

An example Management Figures report is shown in Fig.7, the left hand side of which displays how the Actual COS is calculated.

The fields used to calculate the Actual COS are described in more detail below:
Opening Stock - This is the last Period's closing Stock Value, this is a fixed number and cannot be changed by the user. The system will default that the value of this field is weighted
Total Purchases - This is the approved Delivery Value from the actual Suppliers which the goods were received from (this is not always the allocated Supplier for that Product). This total can include Deliveries and Invoices
Supplier Returns - This is the approved Returns Value from the actual Suppliers which the goods were returned to (this is not always the allocated Supplier for that Product). This total can include Returns and Credits
Requisitions Received - This is the value of the Stock which was received from the Main Store and uses the Cost from the issuing Site. This value comes from the allocated Supplier for that Product at the issuing Site
Requisitions Issued - This is the value of the Stock sent from the Main Store. This value comes from the allocated Supplier for that Product at this Site
Site Transfer Received - This is the value of the Stock sent from the issuing Site. This value comes from the allocated Supplier for that Product at the issuing Site
Site Transfer Issued - This is the value of the Stock sent from this Site. This value comes from the allocated Supplier for that Product at Site
Account Transfers IN - This is the value of the Stock which has been manually transferred in using the allocated Supplier cost for this Stock at this Site

Please Note: A value will only be within this field if the account itself is excluded from GP

Account Transfers OUT - This is the value of the Stock which has been manually transferred out, and uses the allocated Supplier Cost for this Stock at this Site

Please Note: A value will only be within this field if the account itself is excluded from GP

Closing Stock Value - This is the weighted average value of the Closing Stock, which uses the Opening Stock value and the Delivered Value in this Period to determine the closing value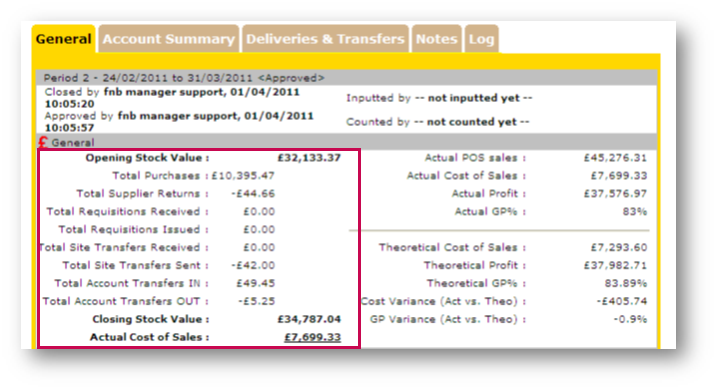 Fig.7 - Actual COS on the Management Figures Page

To ensure that the Actual Cost Of Sales is correct, check the following:

Deliveries - All delivery costs and quantities have been matched correctly and approved, ensure that deliveries are not approved into the wrong Period
Supplier Returns - All Supplier returns required have been created and matched correctly, and have been approved. Credits where Stock wasn't delivered must be approved out in the correct Period
Wastage - All wastage must be recorded and approved correctly in the right period, and if possible, daily wastage has been entered
Account Transfers - All Account Transfers in and out have been recorded and approved correctly
Site Transfers - All Site Transfers to and from other Sites have been approved correctly
Requisitions - All Requisitions (if applicable) are approved correctly
Closing Stock - The Stock must be counted correctly and entered correctly. The Stock should be on the system before the new Period's starting date
Weighted Average Value
The Weighted Average Value for Stock is calculated using the Opening Value plus the Approved Purchase Value divided by those Total Quantities.

For more information, see P2P&I - Weighted Averages Explained

Reasons for Differences Between Actual and Theoretical Cost Of Sales

Sales Not Importing - The Theoretical COS is generated using the Menu Cost as dictated by the Recipe at the assigned Supplier Cost Price at Site. If there are Sales missing, the Actual COS will be correct but the Theoretical COS will not be
POS Entered Incorrectly - If the wrong Menu Items have been entered into the till, there will be an incorrect Theoretical COS for that Menu Item, but the Actual COS could be correct depending on what was physically sold
Missing PLU Numbers - If all Menu Items which have been sold do not have a corresponding PLU and Recipe in FnB, then the Theoretical COS will not match the Actual COS
Recipe Ingredients Incorrect - If the wrong Menu or Batch Ingredients are being down-dated in the Recipes, the Theoretical COS will be different to what has actually been sold. If Recipes haven't been checked for Seasonality Yield, then the Actual Cost could be much higher or lower than the Recipe Cost
Recipe Not Updated to Site - Although the Menu or Batch Ingredients may be changed at Enterprise, they need to be updated to Site to ensure that the Theoretical COS is correct
Ingredient Costing Incorrect (Assigned Supplier is Wrong) - If the wrong Supplier is allocated when adding the Products to site, the Theoretical COS will be miscalculated
Using Invoice Adjustments - If the Invoice Adjustments are being used to manage Invoices / Credits, then this will impact the Actual COS but not the Theoretical COS, as Invoice Adjustments are not included in Recipes
Transfers Included in Cost of Sales - Any transfers of Stock to accounts included in COS will impact the Actual COS, but will not have been accounted for in the Theoretical COS
Cost Price Variances from the Default Cost - If the Invoices are edited upon receipt to change the Cost Price, then the Actual and Theoretical COS will not match, as the Theoretical COS is calculated using the default cost price
Over and Under Portioning - If the actual Recipe given is greater or less than the Recipe on FnB at Site, then the Actual and Theoretical COS will not match
Incorrect Closing or Opening Stock - If the Closing or Opening Stock is incorrect, then it can inflate or deflate the Actual COS
Missing Deliveries - If all deliveries are not approved into Stock - including orders inputted manually - then this will impact the Actual COS against the Theoretical COS
Missing Supplier Returns - If the Supplier Returns are not entered into the System and approved, then there will be a difference between the Actual and Theoretical COS
Missing Requisitions or Site Transfers - If all Site Transfers and Requisitions which have happened in the Period have not been approved, then this will have a negative / positive impact on the Actual COS at one of the Sites and the opposite negative / positive impact on the other Site
Unaccounted for Stock - If the stock is not rung through the till and given for free and / or stolen, the Actual and Theoretical COS will not match as the Actual COS will be higher
Closing the gap between Actual &Theoretical Cost Of Sales

Ensure that all Products are listed with the correct Cost with the correct Allocated Supplier

Update Recipe changes made in Enterprise to Site when required

Check for missing Sales, and do not approve the Period without ensuring that all Sales have been imported and are being recognized

Ensure that the Stock Period checklist is being used, as this helps to ensure that all documentation is present

Regularly check and update the physical Recipes

Regular Operational Training for users should help to ensure consistency of practices

Standardise the method for counting Stock, and regularly rotate who completes the Stock count

Use Cyclic Stock takes if required to deter theft
Also See