Users can sync their personal work schedule to their Google calendar through HotSchedules. This way all of your important information is in one place!
Follow these steps to setup the Google calendar sync:
Log into your HotSchedules account.
Select the Settings tab.
Select the Preferences sublink.
There will be a Google Calendar Sync section at the bottom of this page.
Select the Link to my Google Calendar button.
Select Yes to confirm that you do want to send HotSchedules shift information to your Google account.
You will now be redirected to Google to log into your account and elect to Allow Access again.
Your email address will now appear under this Google Calendar Sync option, and you're all set!
Note: If you are not redirected to Google to confirm this process, you may need to check your pop up blocker settings.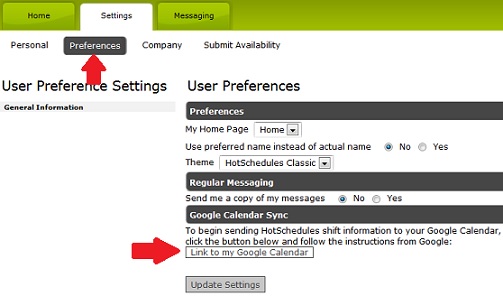 If you ever need to disconnect the two accounts, please return to this page and select the Opt Out button to confirm.