Within HotSchedules, the home phone number on your account is your primary contact phone number. Unless you elect to hide it from co-workers, this phone number will display on the Staff tab and when you view the entire schedule.
Additionally, if you use the automated phone system to check your schedule or messages, this is the phone number that you will type in to locate your account. Your phone number must be unique for the automated system to locate your account. It cannot be attached to more than one account.
The Home Phone is separate from the Text Messaging phone number. If you wish to sign up for text messaging see this article to walk you through that!
Follow these steps if you need to change your home phone number:
Select the Settings tab.
Select the Personal sublink and you will be directed to the Personal Settings page.
Select Edit for the Contact Information section.
This will populate the Change Personal Details fields on the left side of the screen.
Fill out the number in the Phone Number field.
If you check the hide box, your coworkers will not be able to see your phone number from their accounts (except managers).
Select the Save Changes button.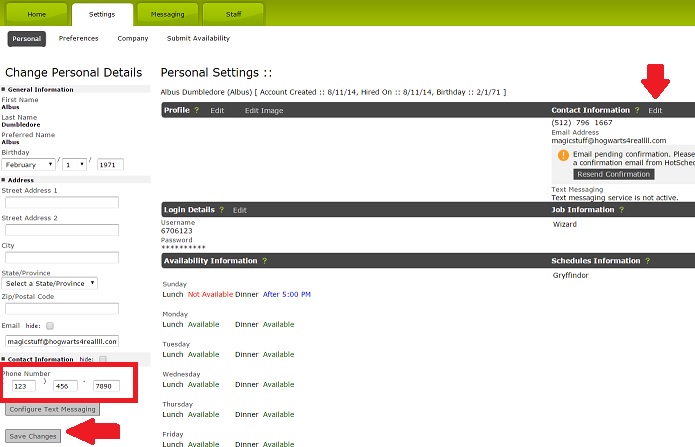 NOTE: If the Phone Number field is not able to be selected, this option may be automatically populated by the employer. So, any changes to this would have to be made by the manager in their on-site systems.