Overview
Location management is key within Fourth Analytics to ensure consistent data structure and accurate reporting.
Covered in this article is adding new locations, managing existing locations and closing locations.
Adding New Locations
To add new locations in Workforce Management follow the guide here: WFM UK - HR - Creating a Location.
For the location to appear in Fourth Analytics two things are required:
1. The location must have a unique Accounting System Code, to do this go to:
HR > Company Admin > Locations > Select Location > Accounting System Code
2. One employee must exist in the new location.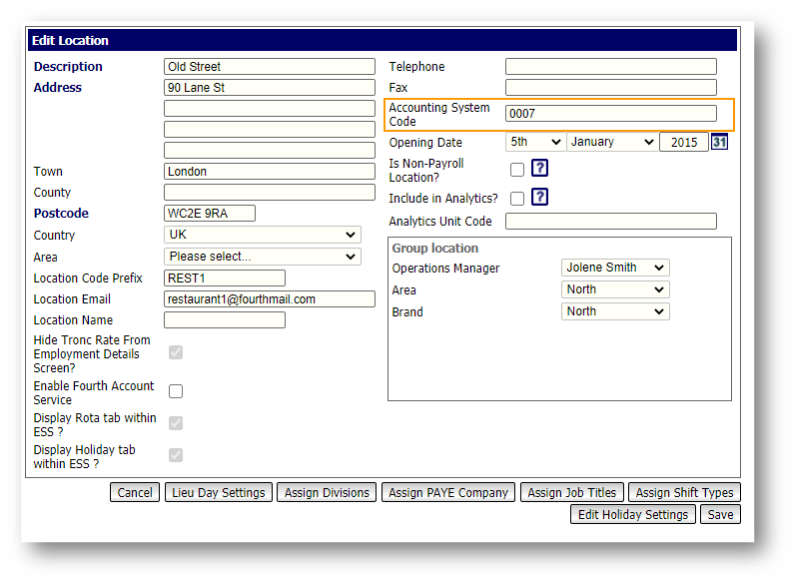 Fig.1 - Accounting System Code
If using Fourths Purchase to Pay and Inventory solution, the unique Accounting System Code must align for the data to flow smoothly.
In Inventory, navigate to Setup > All Options > Organisation Hierarchy
Expand the Hierarchy down the Unit level (identified by a house icon)
Click on the house and select Edit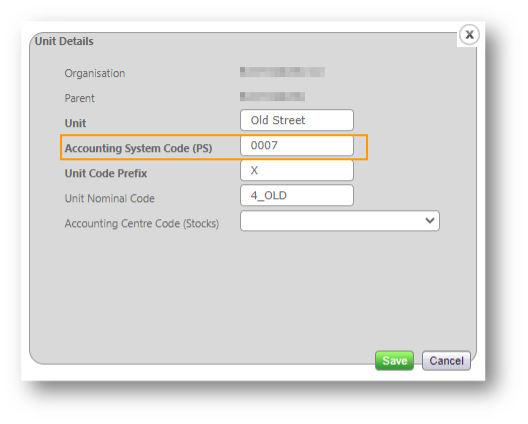 Fig.2 - Accounting System Code in Inventory
The Unit Name will already be populated

Add the Accounting System Code (PS)

This must match the code in People System

Add a Unit Code Prefix

All existing units have a prefix that is the first 3 characters of the site name

Select Save
In WFM you can run a customised report to double-check the available locations. To do this, navigate to:
HR > Reports > Customised Reports > Create Template > Report Type: Employee Details Report > Report Group: Employee Work Details

Location

Location Code

Division

User-Defined Group 1 - 10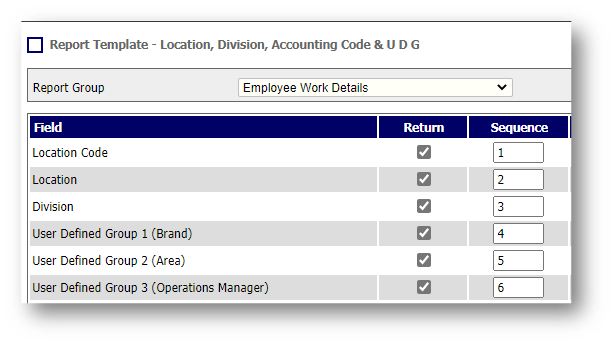 Fig.3 - Customised report on locations
Managing Existing Locations
Fourth Analytics is updated as part of a standard refresh before 6am GMT to ensure the location data is accurate. This includes any updates to the user-defined groups and location setup.
Guidance for changing user-defined groups or adding new ones can be found here: WFM UK - Rotas - Setting up User Defined Groups.
Fig.4 shows the Fourth Analytics Filters. This allows users to filter based on preset location allocations in WFM.

Fig.4 - Fourth Analytics Filters
Fig.5 shows the location set-up. Locations must have User Defined groups assigned to appear in Fourth Analytics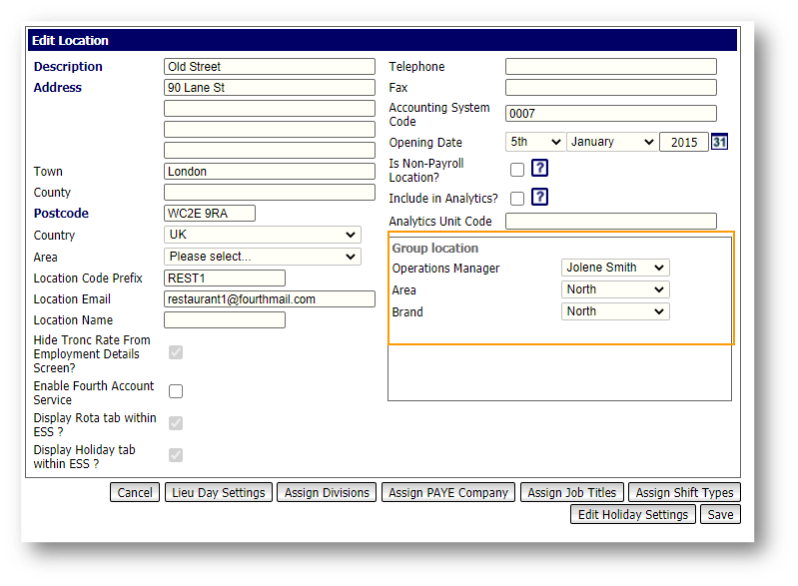 Fig.5 - Location setup
Fourth Analytics reports By Group default to Org Level 2 which is User Defined Group Level 2, allowing users to see a roll-up of multiple locations.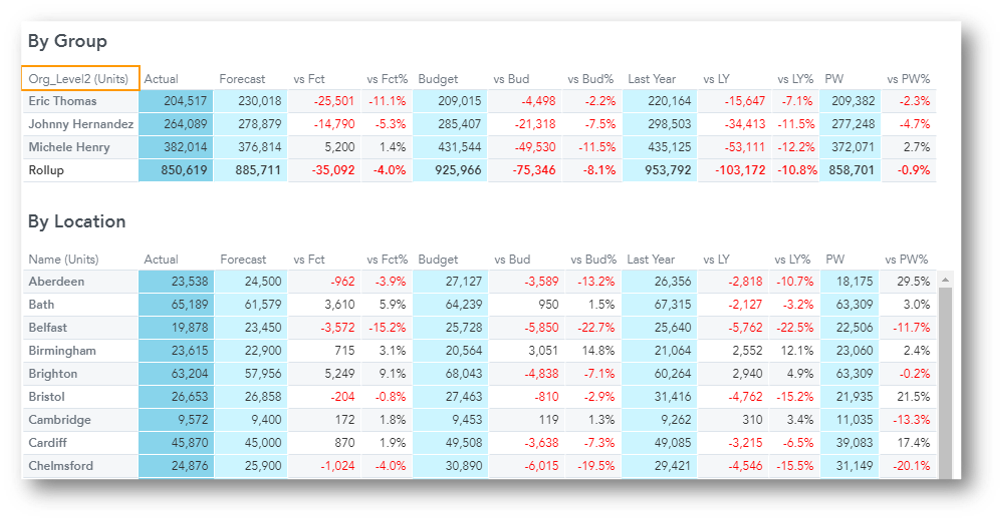 Fig.6 - Report by group
Accounting System Codes
If for any reason the locations Accounting System Code needs to be changed and Fourth Analytics is also in use, please raise a case through the Customer Community here or contact Fourth Analytics support to identify any risks first. Fourth Analytics uses the accounting system code in some of its reporting and by changing the code the data is at risk of being misaligned.
Closing Locations
When locations are no longer required within Fourth Analytics there are a few options, there is the ability to exclude the location by removing the Accounting System Code or by changing the user-defined groups
Remove Accounting System Code
Without the code, the location will no longer appear in Fourth Analytics
HR > Company Admin > Locations > Select Location > Accounting System Code > Remove Code > Save
Change User Defined Groups
Within the HR module, it is possible to create 'user assigned groups'. By doing this, closed locations can be placed in a user-defined group. This will allow those locations to be kept separate when reporting in the Rota module.
For more information on Best Practice when closing a location look here WFM UK - HR - Closing a Location (Best Practice).