Overview
This article will outline the best practices that should be followed if a Location is to be put out of use within HR & Payroll (People System).
Configuring HR Location Settings
When a Location is no longer in use, it is best practice to designate this within the Configure Location settings to show that the location is no longer in use. This gives a visual sign to anyone who may have access to view that Location, that it should no longer be used. For example, putting a 'Z' at the start of the Location name will group it with any other Locations and drop it to the bottom of the Location list.

Note: Any divisions and job titles that have historical or current employees assigned to them within the 'closed' Location cannot be deleted or removed. These are displayed in grey as can be seen below in Fig.1.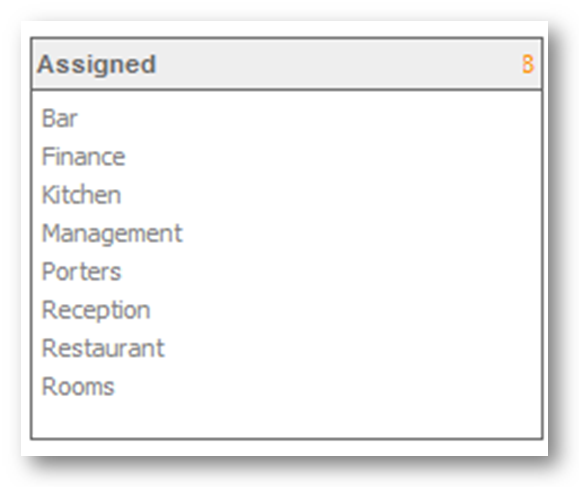 Fig.1 – Assigned Division List
Employees Assigned to Closed Location
As seen in the above section, when a Location is 'closed' in real life, it will remain on the system and could technically be used if access is not restricted as to who can see that Location within the portal. As such, it is necessary to disable access for any employees who have any access to the Location. This can be done in a number of ways.
Employees No Longer Working for the Company
If an employee will no longer be working for the company, it is important that they are terminated correctly within the system. This will then disable any access that they originally had to it.
An Employee is Moving to a New Location
If the employee is now working in a new Location, they should be transferred on the system within the 'Employment Details' page in the employee's file.
Employees Who Have Access to Multiple Locations
If an employee has access to multiple Locations, such as an HR Manager or Area Manager, it is suggested that their access levels be restricted to remove visibility of the closed Location. To do this:
Navigate to HR > Employees > Employee List > Select Employee > Employee Access > Assign Access Levels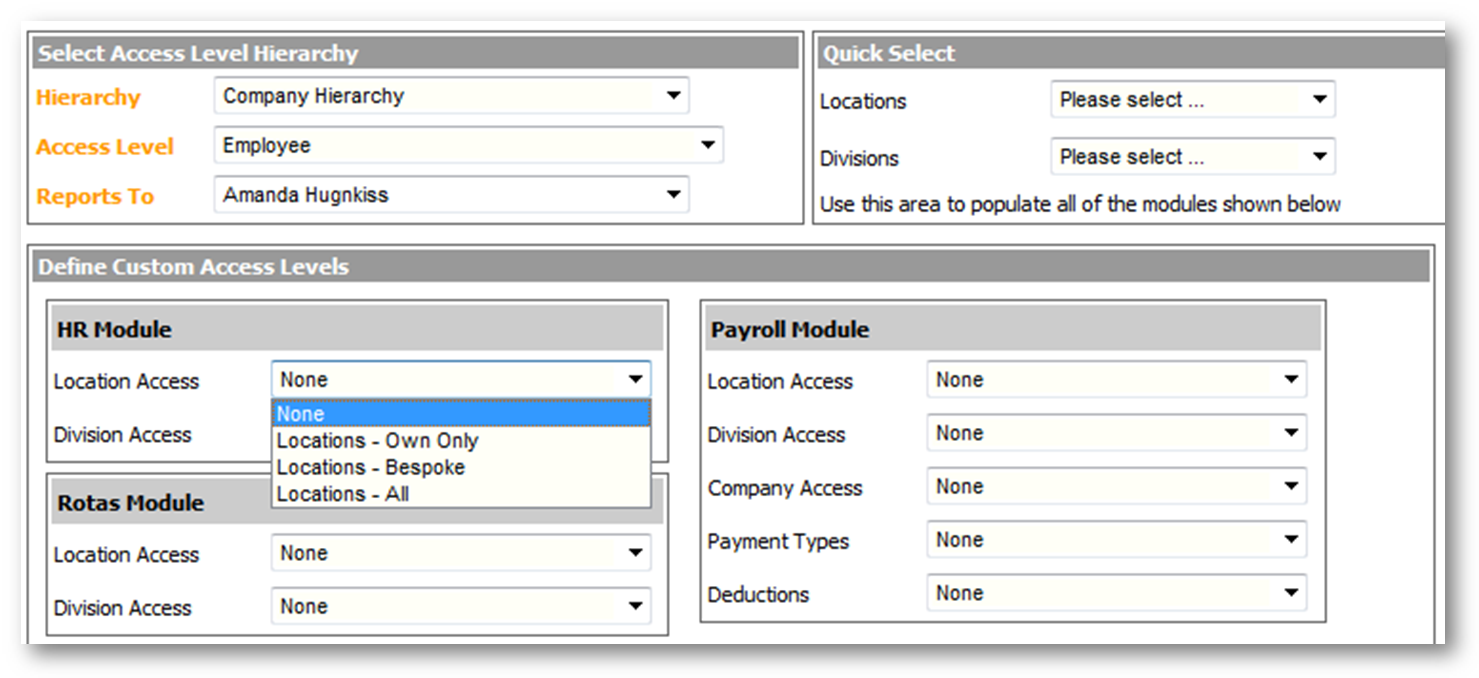 Fig.2 – Assign Access Levels
Access is given on a modular basis.
Within the Location access of each module, there are three options that can be chosen.
Locations – Own Only This will allow the user to only have access to the Location assigned to them within their employment details

Locations – Bespoke This will allow the user access to a selection of Locations that are chosen from a list of all available within the system - see below in Fig.3

Locations – All This will allow the user to access all the Locations within the system

Fig.3 – Bespoke Location Assignment
When a Location is 'closed', it is within the 'Locations – Bespoke' option that the user's ability to see the Location in question can be removed. The user will only be able to see Locations within the 'Assigned Locations' list.

Creating a User-Defined Group
Within the HR module, it is possible to create 'user assigned groups'. By doing this, closed Locations can be placed in a user-defined group. This will allow those Locations to be kept separate when reporting in the Rota module. To create a user-defined group:
Navigate to: HR > Administration > Global Settings > User Defined Groups > Create Group

Fig.4 – Create A User Defined Group
Enter a name for the group in the Description field
Select the Level from the drop-down that the user-defined group will be applied to

Save

Assign a Type to the user-defined group
It is now possible to go into the 'closed' Location and assign it to the newly created user-defined group.
To do this:
Navigate to: HR > Company Admin > Locations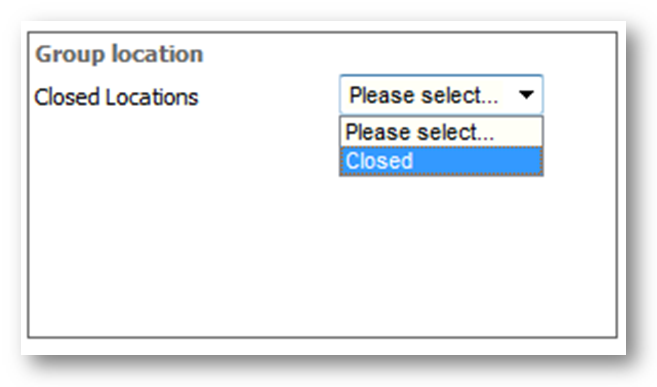 Fig.5 – Location Groups
Within the 'Group Location' area of the closed Location, select the type that has been created within the relevant user-defined group.
Note – When closing a location please inform accounts@fourth.com. Written notice of the Locations to be closed is required so that invoicing can be amended.
Closing a Location in Labour Productivity
Once the above steps have been completed, the last step is to request for the Use Location in Labour Productivity? setting against the Location to be unticked. This will stop the Location from generating further weeks from LP to the Rota module.
A head office administrator needs to raise a case to the Fourth support team with the Location name(s) to have the setting unticked
If a Location needs to be soft-deleted/hidden from the main Labour Productivity Location drop-down, follow the guide below:
Release Notes WFM: Location Deletion
Also See