Overview
This article will explain the Categories, Routing and Units fields within Property Setup in the Purchasing & Inventory (P&I) module (also known as Adaco). To see other articles on Property Setup, please go to Adaco - Property Setup.
Categories
Go to Property > Setup > Categories (see Fig.1)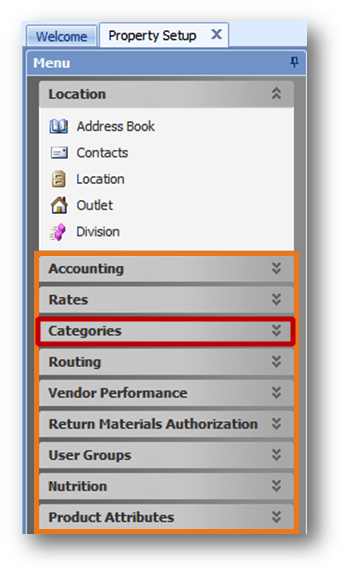 Fig.1 - Categories in Property Setup menu
The menu will show a number of options under the Categories heading.
Table.1 - Description of Categories fields
Field Name
Description
Categories

Create and manage categories and subcategories. A category is a group of similar Outlets, Products, Recipes, or Projects. Categories are used as selection criteria for reports. A Category has one or more Category Segments, one or more Category classifications, and one or more subcategories. (See Fig.2 and Categories Details table for more details)

Event Control Categories

Event Controls are used to track sales/consumption of beverages at events, to support events where beverages are served at multiple bars (stations) in an Outlet.
Event control Categories determine which products may be used in Events, and which products cannot be used.

Please note: Marking subcategories is necessary as only having the Category marked will not show any Products when searching.

Segments (Available at CP Only in multi-Property setup)
Create and manage Category Segments.
A Category Segment is the part of a property to which a Category is applicable. A Category Segment can have more than one Category. Typically, Category Segments are created for Food & Beverage, Housekeeping, and Engineering.

Category Details
Go to Categories > Category Details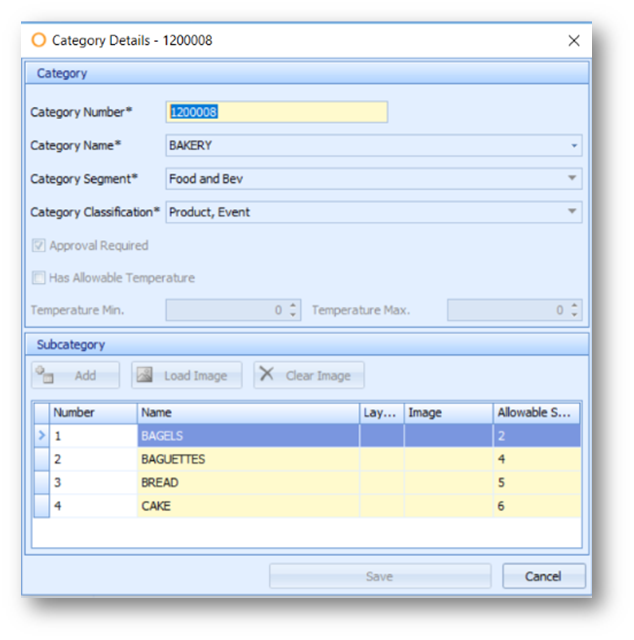 Fig.2 - Category Details
Table.2 - Description of Category Details
Field Name
Description

Category Number

The Category number generated by the system.

Category Name

Name of Category (can be named in multiple languages)

Category Segment

Segment that the Category is part of

Category Classification

Areas in the solution that Category will be used:

Product

Outlet

Recipe

Project

System

Event

Receiving

Menu Component

Approval Required

Enforces approval flag upon creation of product within marked Category

Has Allowable Temperature

When Property > Administration > Property Preferences > Receiving > Authorize Temperature Validation box is ticked, temperatures must be between min and max amount configured in the Min/Max Temperature fields

Temperature Min/ Temperature Max

Minimum and maximum temperatures for allowable temperature

Subcategory Number

Number of subcategories assigned by the system

Subcategory Name

Name of the subcategory can be entered

Layout

Legacy P&I functionality to be removed in a future release

Image

Legacy P&I functionality to be removed in a future release

Allowable Shelf life (Days)

Enables number of days allowable shelf life for a product when Property > Administration > Property Preferences > Receiving > Enable Shelf Life is ticked

Routing
Table.3 - Routing description
Field Name
Description
Route Builder

Create and manage authorisation routing lists.

For each user, a role must be specified.
For each user, the roles available are dependent on that user's highest role.
For requisition routes and for project routes, the last user(s) in the list must have the role Final Approve.

Units
(Only available at CP if one exists)
Table.4 - Units description
| | |
| --- | --- |
| Field Name | Description |
| Units | Create and manage units of measure for Requisitioning, Ordering, Recipes and Inventory. Bespoke units can be configured by contacting Fourth |
| EANUCC Units | Configured by Fourth Technical Consultants for specific Vendor integrations |
| Unit Conversion | Create and manage conversion ratios between units |
| Unit Hierarchy | Create and manage order in which units are shown when searching unit types |