Skill levels give you the ability to rank your staff based on each of their job codes in HotSchedules. Once you have enabled skill levels and assigned them to your team, you can use these to help you schedule your team with the Autoscheduler.  This article will walk you through enabling a a new skill level for your site and editing an existing one.
Please visit this article if you have questions about assigning these skill levels to individual members of your staff.
Follow these steps to add a new skill level:
Navigate to the Settings tab.
Select the Company sublink.
Look for the section titled Skill Level Information. You will see a list of all of your current skill levels.
Select Edit for this section.
The Change Skills fields will populate on the left side of the screen.
Under Add New Skill Level, you will be able to type in the Name of your new skill level and assign it a Rank.
Select Save Changes to add it to your list of current skill levels.
To edit an existing skill level, simply select the Edit button for that skill level on this page. You will be able to adjust the name and rank. The box on the left will be the rank, and the box on the right will be the name of the skill level.
The Rank must be a numerical digit. It determines which level is considered the most skilled or least skilled. A lower numbered rank indicates a lower level of skill.
For example, pretend you have two skill levels called Low and High. You want to assign High to employees that are the most skilled, so you could assign High a rank of 2 and Low a rank of 1.
The system will always default to having three skill levels named 01, 02, and 03. However, you will be able to edit these levels. Please contact Customer Care if you would like to have some skill levels deleted.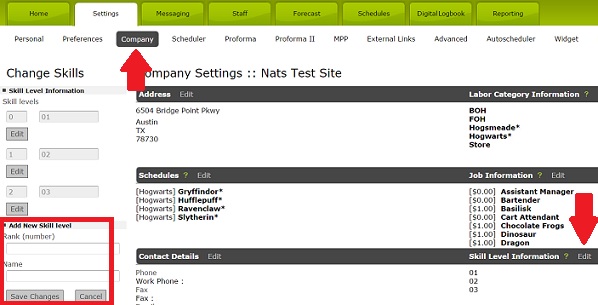 Skill Level Hierarchy - Download QuickGuide
Self-Guided Tutorial 
(This will prompt you to log into HotSchedules, and then guide you through the process click by click.)