Users have the option to download the HotSchedules mobile application to their smartphone to access their account. This is a quick and easy way to access your schedule information, send messages, and use several other features.
We currently have a HotSchedules app available for iPhone and Android users. Our app costs $2.99 in each of the respective app stores: Apple App Store and Google Play Store.
You can view our Mobile Application Version Policy here.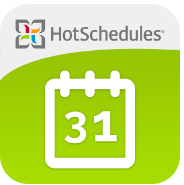 The applications were developed separately for each platform, and they are sold separately by the two app stores. So, if you switch from an iPhone to an Android phone, you would have to re-purchase the app. For example, the Google Play Store would not have record that you previously purchased the iPhone app from Apple. If you switch to a new phone on the same platform (for example, you were previously using an iPhone and you get a new iPhone), then you should be able to re-download the app for free if you are using the same app store account.
If you encounter any errors while actually downloading the app, we recommend that you reach out to the support team of your platform provider (Apple support or the Google Play Store support). Please also direct any questions regarding refunds or payment to those teams since they have records of your transaction.
Once you have downloaded the HotSchedules app, if you have any issues logging into your account or experience any errors with the app's functionality, you are always welcome to contact our Customer Care team.
For more information on what platforms are supported, click here.