The Logbook is a communication log that managers can use to track operation notes and staff performance - including a feature called ToDos. These allow managers to assign important messages or duties to other users and track the progress on these items.
Note: ToDos are only visible to users with access to the Logbook tab, so they can only be assigned to those users. For example, if the employee permission set does not include access to Logbook, anyone with the employee level access will not be able to be assigned ToDos. Contact Customer Support with any questions about modifying the access of different permission groups.
Logbook ToDos
Hover over the Logbook option, and select ToDo.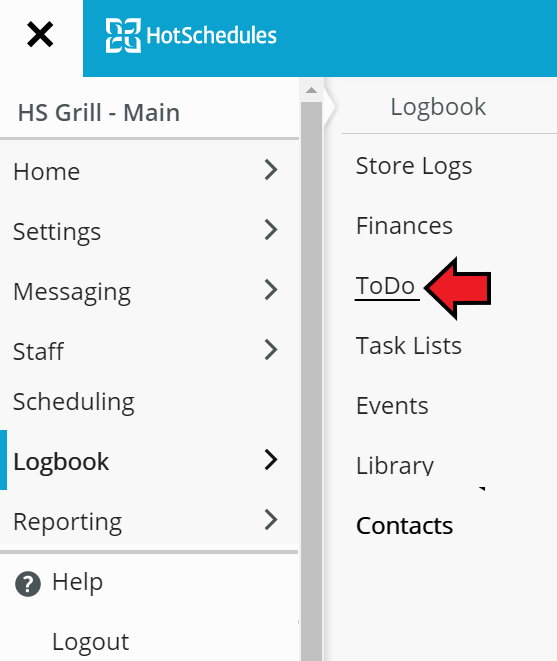 This page will display any existing ToDos. My ToDos will show items that are assigned to you. Assigned to Others will allow you to track progress on ToDos that have been assigned to others.
Create Logbook ToDos
Select the + Add ToDo button on either tab to create a new ToDo.

The Create ToDo window will appear, and you can configure the details of your ToDo. Select the Save button when you are done.
Add the subject of the ToDo. This is how it will appear in the list of ToDos on the previous page.
Use the drop down menu to select whom your ToDo will be assigned to. You can also set this to yourself to add this item to My ToDos.
Configure the Due Date and Due Time.
You can also set a Priority and setup an alert to remind the assignee to complete it.
If this will be a recurring item, select Add Recurring. This article reviews recurring ToDos.
Add any comments about this ToDo for the assignee to review. You will also have the ability to add a photo.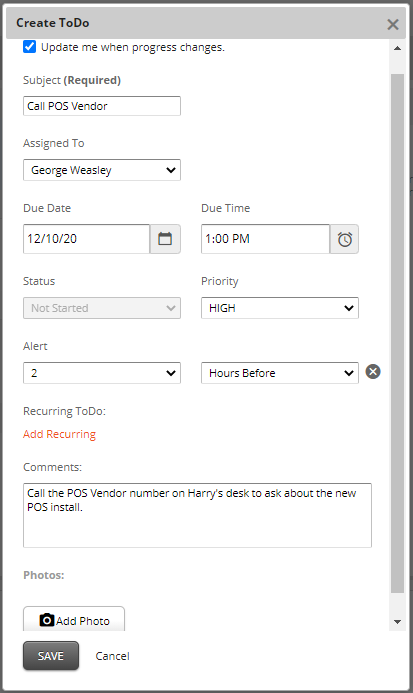 Manage Logbook ToDos
The user who has been assigned the ToDo can then update the status of the ToDo and add comments and photos to provide progress updates.
ToDos that have been assigned a high priority will display with red exclamation mark icons.
See this article with more information on updating the status of ToDos.
Deleting ToDos - To delete an item, click the three-dot action menu in the list of ToDos, and then select Delete.
Edit ToDos - To edit an item, select the ToDo from the list. Then select the Edit option in the top right corner.
ToDos can also be created and managed within the mobile apps!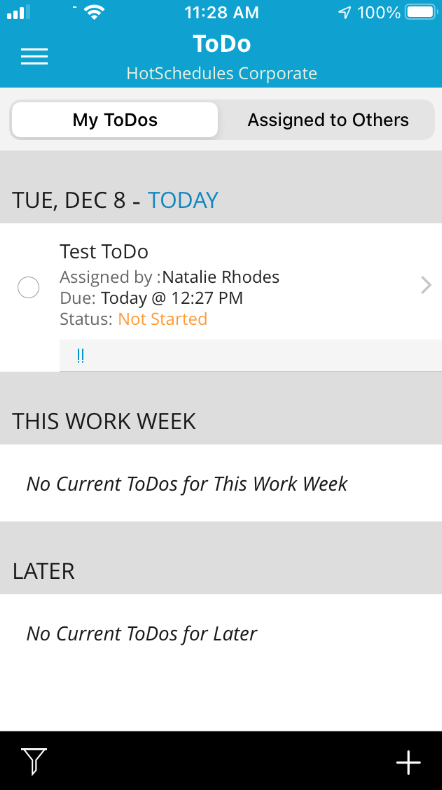 Self-Guided Tutorial
(This will prompt you to log into HotSchedules, and then guide you through the process click by click.)