HotSchedules users have the option to sign up for text messaging on their accounts to receive important notifications (like posted schedules). However, you are able to opt out of receiving text messaging notifications if you no longer want them.
There are actually 2 simple methods that you can use to stop these notifications.
Follow these steps to stop HotSchedules text message alerts:
Method 1: HotSchedules text messages are sent from the number 31325. On your mobile phone, reply with STOP to 31325 to let us know you no longer wish to receive them. Once you text STOP, you will receive a confirmation. After receiving a confirmation you will no longer receive text message notifications.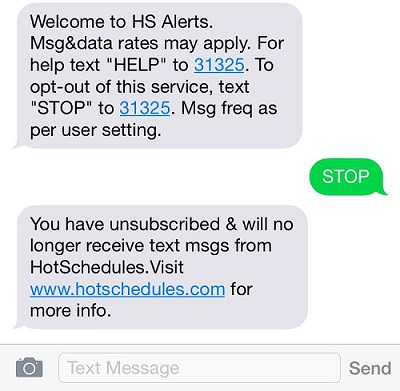 Method 2: Log into your HotSchedules account and select the Settings tab.

This will take you to the Personal Settings page.
Select Edit beside the Contact Information section of the page.
The Change Personal Details options will appear on the left side of the screen.
Select the Configure Text Messaging button.
After selecting this option, the Text Messaging Service Activation box will appear.
Select No to opt out, followed by OK to confirm.
This will remove your phone number from your account and stop the notifications.