HotSchedules users have the option to sign up for text messaging on their accounts to receive important notifications (like posted schedules). If you get a new phone, you can change the text messaging number for your account at any time. You will just need to remove the old phone number and resubscribe to text messages with the new one!
Follow these steps to change your text messaging number:
Log into your HotSchedules account, and select the Settings tab.
Select Edit beside the Contact Information section of the page.

You will see the current phone number set up for text messaging on your account here.

The Change Personal Details options will appear on the left side of the screen.
Select the Configure Text Messaging button. A pop-up will display with the text messaging options that you previously selected for your old phone number.
You must unsubscribe from text messaging with this old number. Select No for the Use Text Messaging Service option.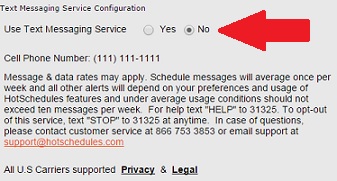 Another pop-up will display, asking if you are sure you want to make this change. Select OK.
Now you can add your new text messaging number!

Configure Text Messaging again, and follow the prompts to enter your new number and agree to the Terms and Conditions.
Save the changes.
Within several minutes, you will receive a text message from the number 31325.
That message will  ask you to reply with the word Agree.
Once you have replied, you will receive a second message confirming that you have been set up with text alerts.
If you do not receive the either message, you may need to refer to your cell phone service provider and ensure that the number 31325 is not being blocked.