This feature allows users to upload personal profile images in HotSchedules. There is also a manager approval process for all user profile pictures uploaded by the staff. If you find that you do not have these options, the feature may not be enabled for your site at this time. Feel free to contact Customer Care with any questions.
Follow these steps to upload a profile picture:
Log into your HotSchedules account and from your homepage locate the My Profile widget.
Select the Change Picture link.

You will be redirected to the Personal Settings page.
You will have the option to upload an image by selecting the initials icon.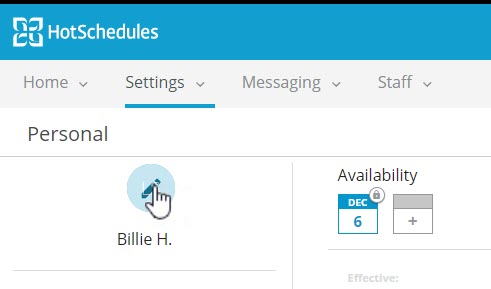 Once you select an image, you will be prompted to crop your image.
Note: The uploaded file must have width and height of at least 400 pixels and no more than 1500 pixels.
Select Apply to once you are satisfied or Choose New if you want to select a different picture.
Once you select Apply, you will have to select Save Changes.
The image will not appear on your profile just yet. It will go through an approval/denial process by a member of your management team.
Once your manager approves your picture it will appear on your profile. If your manager denies the image no changes will be made.
If you need to delete your profile photo you can simply hover over your photo and select the trash can icon to delete.