Overview
Banking deposits will ensure the store's cash is secured in the safe quickly and accurately to reduce financial risk. Each shift manager should responsible for their cashiers' deposits.
Completing a Deposit
From the Work Flow, select the Banking Deposit task (Fig.1) or from the Menu tab, navigate to the Financial tab > select Banking Deposit (Fig.2)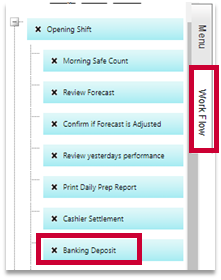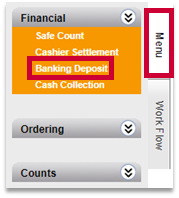 Fig.1 - Workflow navigation Fig.2 - Menu navigation
Check that the correct date is selected

Fig.3 - Date Selection
On the Banking Deposit tab, there are 3 fields:


Total of Cashier Deposit: The total cash amount that has been processed from the authorized Cashier Settlements, up to the current time of day

Amount Available: The total cash amount that is available to deposit into the safe

Amount Dropped: The total cash amount that has been deposited into the safe today

Fig.4 - Bank deposit fields
The fields below will need to be completed with the following information:

Drop Amount: Enter the amount of cash that will be deposited in the safe

Receipt No: Enter the number of the envelope/bag the cash will be placed in

Fig.5 - Drop amount/Receipt No fields
The bag/envelope number entered cannot be reused during the same day.

Fig.6 - Confirm Drop button
The bank deposit will be listed in the top panel of Fig.7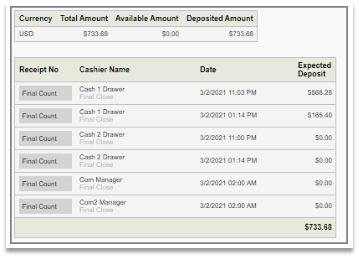 Fig.7 - Deposit amounts
Related Articles