Overview
A Safe Count is the process of counting the contents of the store safe and recording the amount in Fourth. An efficient and regular count of the cash in the store safe improves the accuracy of the store's cash float. A safe count also helps financial errors be identified and investigated quickly and easily.
The contents of the safe should be counted and verified with each shift start or changeover.
Entering a Safe Count
From the Work Flow, select the Morning Safe Count, Changeover Safe Count or Night Safe Count task or from the Menu tab, navigate to the Financial tab, select Safe Count

Fig. 1 - Morning Safe Count Task
Ensure that the correct store and date are selected. The date will default to your current day in all pages of the application

Fig. 2 - Select the correct date
Enter the Coins and Bills, the total amount in safe. Enter Money in Registers, the total amount in registers. The system will calculate the total amounts in the Total Count $ field. Store Safe Total $ is the pre-set default safe amount configured for the store. It's default to $1,250 and can be changed if needed
The Total Count $ should equal to Store Safe Total $ to make $0.00 variance.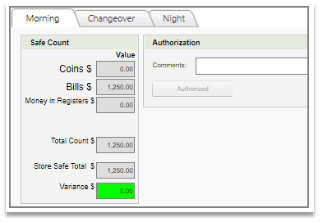 Fig 3. - A variance of $0.00
Enter any comments into the comments field if required
If there is a variance, an explanation in the 'comments' field will be compulsory. A notification alert can be sent to store manager's and above.
The current store manager must authorize the Safe Count by selecting the Authorise button

Fig 4. - The Authorise (authorize) Button
A confirmation pop-up will appear once authorized