Overview
This article will explain the User Groups, Nutrition and Product Attributes fields within Property Setup in the Purchasing & Inventory (P&I) module (also known as Adaco). To see other articles on Property Setup, please go to Adaco - Property Setup.
To begin, go to Property > Setup and select the field requiring setup
Highlighted in red in Fig.1 are the sections mentioned in this article.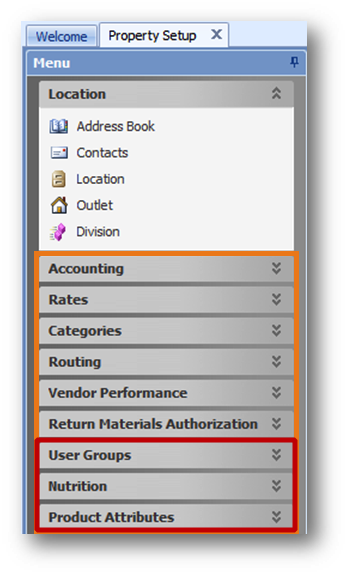 Fig.1 - Property Setup selection screen
User Groups
Table.1 - User Groups description

Nutrition
Table.2 - Nutrition description
| | |
| --- | --- |
| Field Name | Description |
| Nutrient | Create and manage Nutrients for recipe building |
| Nutrition Data | Allows User to import Nutrition Data from an external database |
| Sensitivities | Select which Sensitivities (Allergens, Intolerances, Dietry Guidelines) will be displayed in the Property |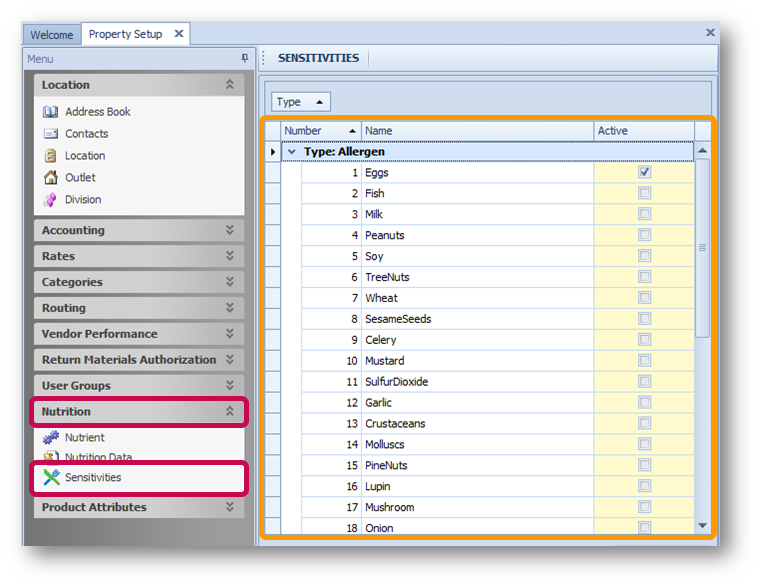 Fig.2 - Sensitivities selection
Sensitivities
The setup is presented in a dynamic table that will expand/collapse in rows if Sensitivities are added/removed

Activating a Sensitivity here will make it available for use within the Property

Deactivating and then Activating a Sensitivity will not delete stored values against Ingredients or Recipe

If Sensitivities need to be added or removed, please contact Fourth support
Product Attributes
Table.3 - Product Attributes description
| | |
| --- | --- |
| Field Name | Description |
| Attributes Setup | Create and manage Attributes for retail Products |