Overview
After a site has been closed for a period of time there are some checks and amendments that may need to be made within FnB Live to ensure it is ready to be used again. This article outlines these checks and shows how to update where required.
Enabling a Site
If a site has been disabled in the past, it will need to be made Active for user access

Go to Enterprise > select Site > Edit Site
Status as Active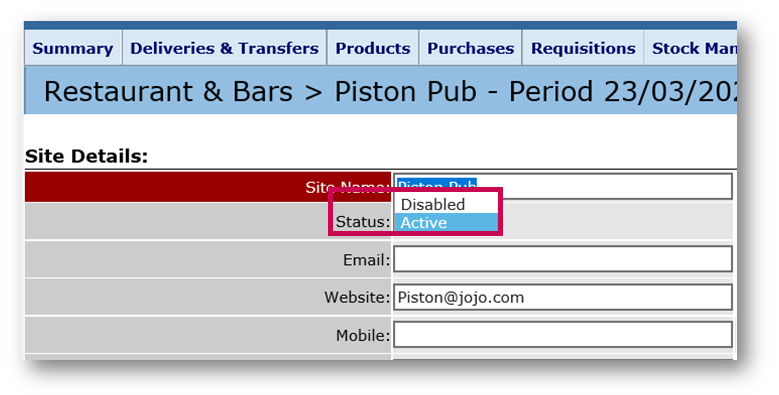 Fig.1 - Setting a site's Status as Active

Please note: If a site has been closed for a period of time that exceeds 18 months, a support case will need to be raised with the Fourth Support Team to re-activate the sites, allowing the closing and approval of stock periods.
Updating Stock Period Dates
It may be required that a stock period end date will need changing before reopening a site. This could be due to a change in the beginning of a new stock period or a means to roll stock periods forward quickly by extending the current period.

An individual site's stock period can be changed in Site > Stock Management > Actions > Adjust Stock Period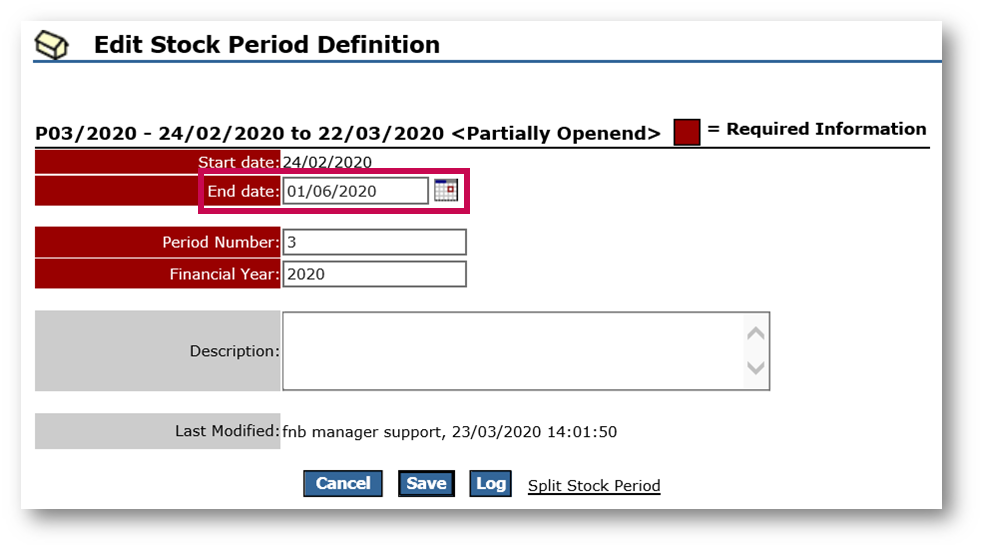 Fig.2 - Adjusting a site's Stock Period end date
However, as it is imperative that all sites within the same unit are on the same stock period, Fourth recommends that the changes are applied to all sites within that unit at the same time.
Firstly, ensure that all sites are in the same stock period and are in a status of 'open'. This is checked and managed in

Site > Unit Admin
Here, the status and stock period end dates of all the sites in the same unit can be seen.


Fig.3 - Period number of sites
Once this has been checked, the stock period can be changed.

Go to Site > Unit Admin > Period Administration
Then select the appropriate Period Number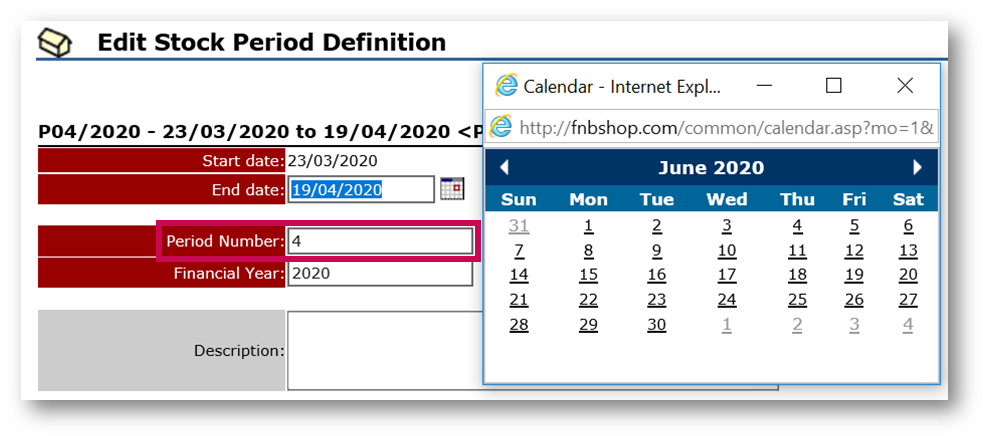 Fig.4 - Changing a stock Period Number
Upon approval of the extended stock period, the system will default to the standard stock period length set against the site e.g 7 days, Monthly, 4/4/5.
If the site reopens on a day that is not in sync with the normal stock periods then the above process can be used to align the newly generated period. For example if the site reopens on a Wednesday and therefore carries out their first count that day but has weekly Monday-Sunday stock periods as standard, the newly generated period following the initial count will show as Thursday-Wednesday. Use the above process to update the period to show as Thursday-Sunday and the next stock period will begin on the Monday.
Ensure Orders can be Placed
If settings were applied to prevent orders being sent from sites to suppliers during the period of closure, these will need to be reversed. There are two options of preventing orders being sent within FnB either against the site or against a user.
1. Enabling Orders Against a Site
A setting can be applied to disable orders to be sent from a site to all suppliers - this must be disabled.
Go to Enterprise > select Site > Edit > Ordering > remove the tick against Do NOT send off orders from this site

Fig.5 - Disabling the setting that prevents ordering for a site
2. Allowing User Permissions to Order
If necessary, the Security Template for users may need to be changed to allow purchasing and re-applied to effect access.
Go to Enterprise > System Administration > Security Admin > Security Templates
Select Template > Security Access > Supplier Order, Delivery, Invoice & Credit Note Settings
Tick the box against Create & Edit Supplier Order


Fig.6 - Enabling ordering in the Security Template
The template then must be re-applied to all linked users to update their access and permissions.

Go to Security Template > General > Reapply Template to Users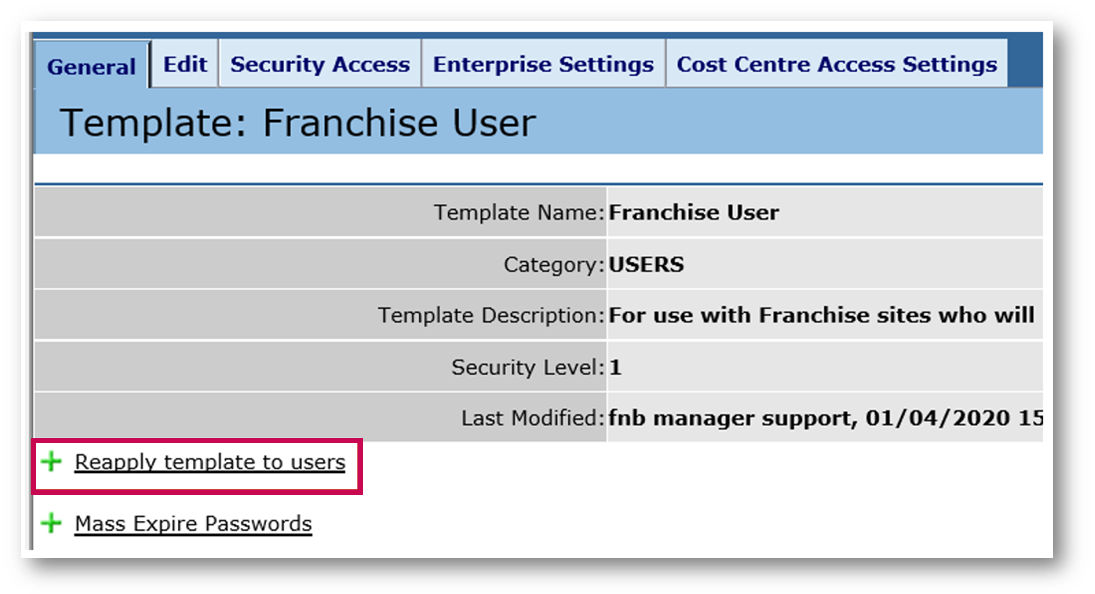 Fig.7 - Reapply template to users

Other Considerations
Dealing with Existing Stock on Site
Upon reopening a site there may be perishable stock that needs to be returned, transferred to another site to be used, or discarded. The options below detail how to handle each scenario.
Supplier Returns
Any stock that has a short shelf life or the supplier is willing to take back should be recorded in FnB as a Supplier Return, to ensure the accuracy of the first stock result upon reopening. The following article details the process for recording a supplier return - Inventory | Restaurants - Recording a Supplier Return
Site Transfers
If sites are reopening in a staggered approach, there may be a requirement to move stock from one location to another. The following article shows how to carry out a site transfer in FnB - Inventory | Restaurants - Creating a Site Transfer
Record Wastage
If products have past their expiry date upon reopening the site, then they will need to be recorded as wastage to ensure an accurate stock result.
Update Supplier Delivery Days/Cut-off Time
Have suppliers changed their delivery schedule/order times? FnBshould be updated to reflect this to ensure sites order for the correct delivery date.
Go to Enterprise > Supplier Management > select Supplier > Edit Details > Delivery Days


Fig.8 - Editing supplier delivery days
Updating Product Prices
Over the period of site closure there may have been revisions to the product prices from suppliers. Aside from changing the product price in an individual record, there are two ways to manage product prices.
Go to Enterprise > Master Product List > Update Products
Filter by supplier and tab through the fields changing the Unit Cost and/or Order Costs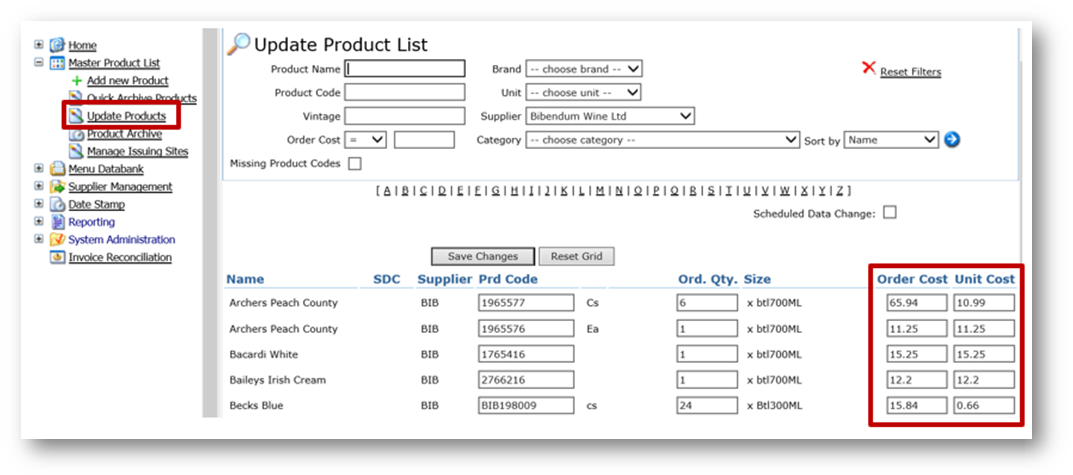 Fig.9 - Updating Unit Costs/Order Costs for a product
It is also possible to update prices via template. See FnB Live - P2P&I Best Practice: Supplier Catalogues [3] - Importing a Catalogue for guidance.
Replacing a Supplier
In the unfortunate event that a supplier is no longer trading or if a new partnership has been formed, a supplier can be replaced against the products. Please refer to FnB Live - Replacing a Supplier.
As the prices and product codes may have changed, these can be updated on the Update Products screen as mentioned previously.