Overview
This article provides guidance on setting up and applying Scheduled Data Changes in Fourth's FnB Live product. The instructions given will typically be carried out by a system administrator. The article covers Scheduled Data Changes on Master Products, and Menu items.
Master Products
Select the required Master Product (in this example 20891 TEST 1, Btl75CL.)
Select Edit Product and then tick the Scheduled Data Change option
On the pop-up message that appears select OK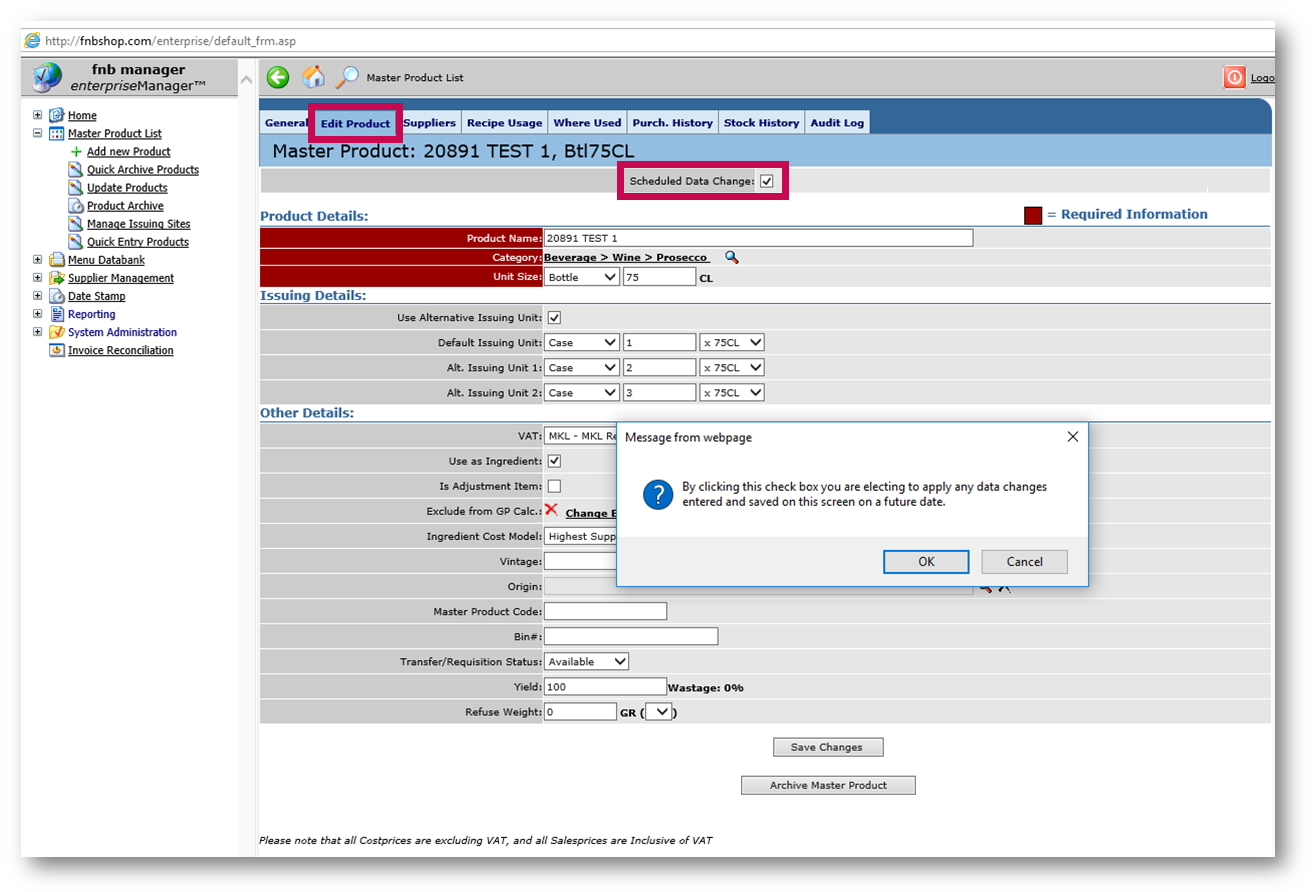 Fig.1 - Ticking Scheduled Data Change
A calendar window will then open.
Select the date that the change is to be made

Fig.2 - Selecting a date
Please note: the data change will run overnight and will typically be applied at around 2am on the date selected
In this example, a custom VAT code change is being made.
From the VAT drop-down, select RR - New Rate (5.00%)
Select Save Changes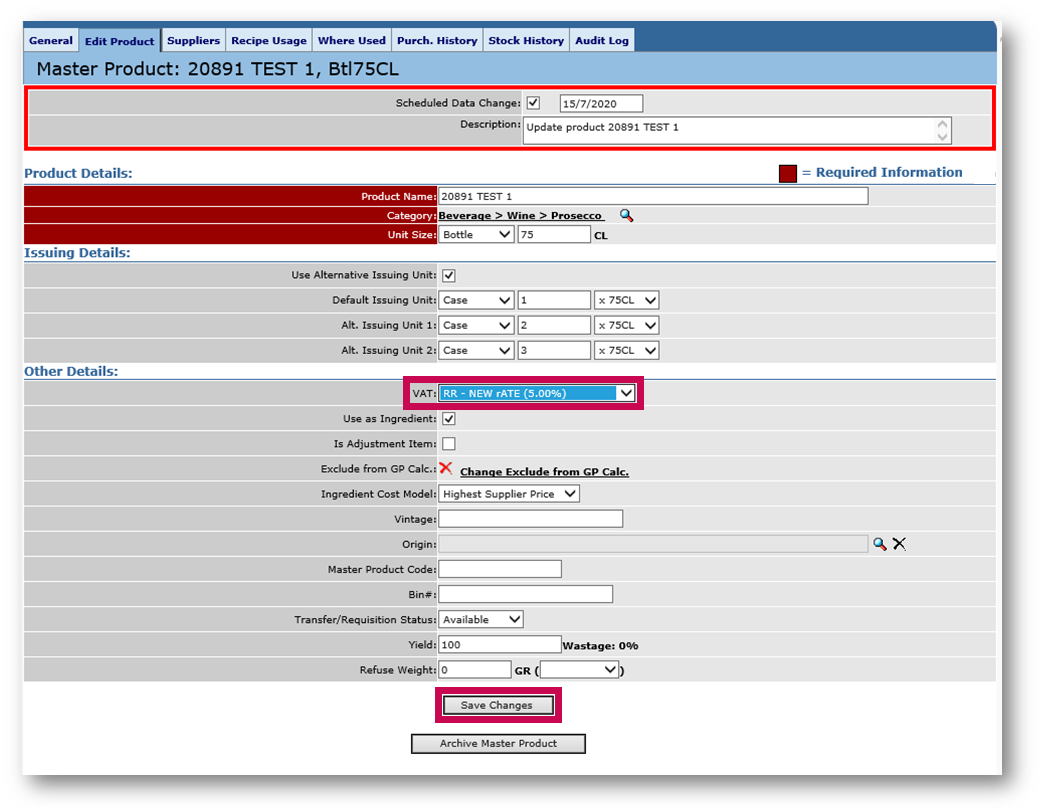 Fig.3 - VAT rate change
The next step is to approve the Scheduled Change.
On the product where a data change is scheduled, select the General tab
As shown in Fig.4 it will display that a Scheduled Data Change exists.
Select Display Scheduled Changes

Fig.4 - Selecting Display Schedule Changes
On the next screen, tick the box against the Scheduled Change, and then select Approve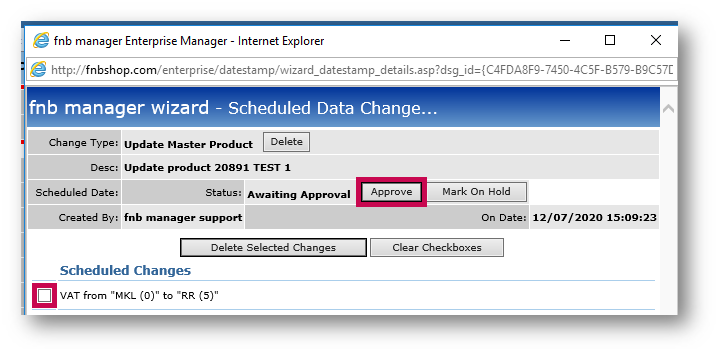 Fig.5 - Approving a Scheduled Change
Menu Items
Scheduled Data Changes can be made to Menu Items as follows:
In Enterprise, select the Menu Item option under the 'Menu Databank' section
Select the Menu Item to be changed and then select Edit Menu Item
As with Master Products, simply select the Scheduled Data Change option, enter the date the changes are to be applied on and make the required changes
The only difference with Menu Items is that, unlike with Master Products, the changes need to be updated to sites in order for them to apply.
Go to the Edit Menu screen and select the Where Used tab

Update the menu items to the sites where the changes are to be applied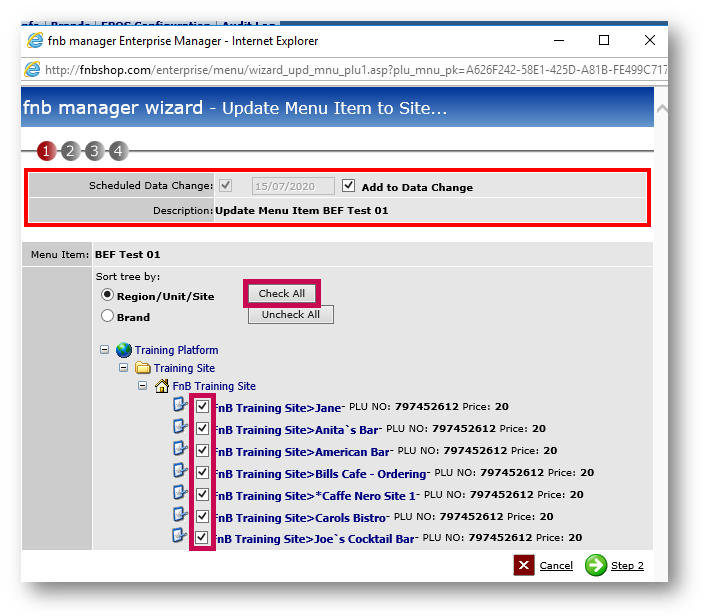 Fig.6 - Updating menu items to sites
To approve these changes,use the Scheduled Data Change screen as with Master Products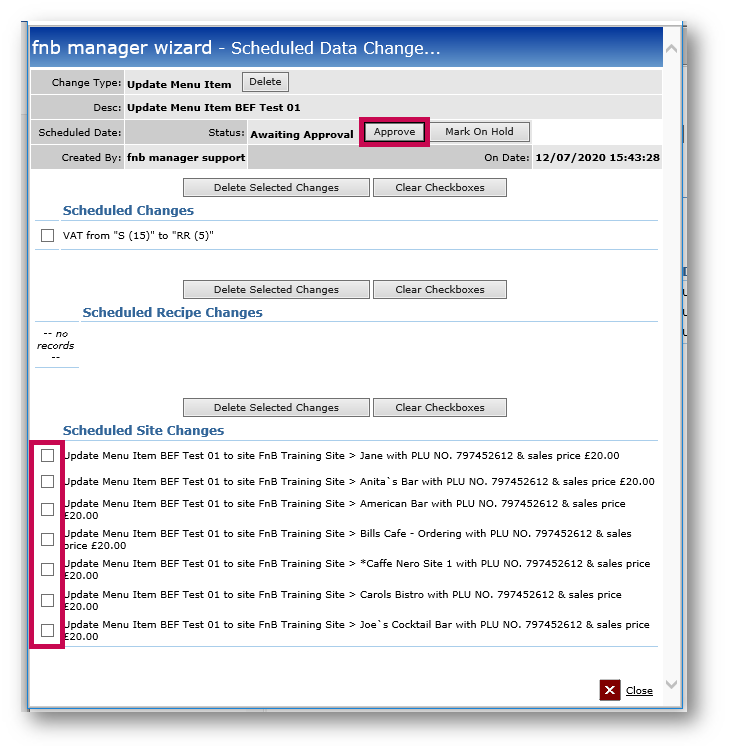 Fig.7 - Approving Scheduled Data Changes
If the Scheduled Site Changes section as shown in Fig.7 is blank, this means changes have not been updated to site(s). In this case changes need to be applied to sites before approving.
In both cases for Menu Items and Products please ensure the changes are approved before 14th July 2020, for the changes to apply on 15th July 2020.
If changes are not approved they will not be applied.