The Scheduling tab will list all employees that are available to be assigned shifts. Depending on your schedule settings, the employees will usually be grouped by the schedules they are assigned to.
Visit this article if specific employees are missing from your schedule.
If you ever find that an entire schedule is missing from the Scheduling tab, there are a few things you can check:
1. Check your filter options on the Scheduling tab.
Filters allow you to limit which employees are visible to simplify your view as shifts are assigned.
Make sure that your filters are not currently set to only show other schedules or jobs.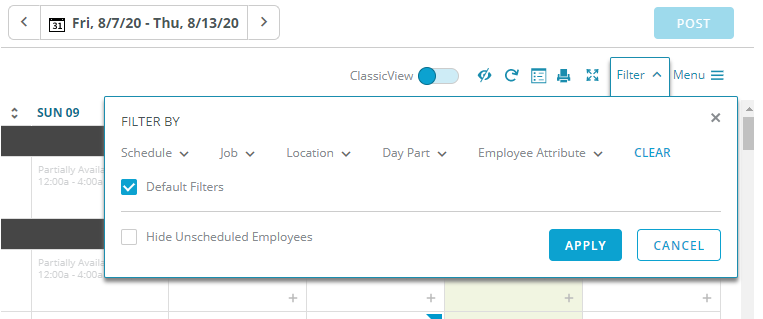 You can also check the

Group By

setting.

Select

Menu

in the top right corner of the scheduler, and then choose

Settings.
Under

Group By, you can select whether the employee list should be sorted based on just their schedule or based on their job code as well.

None - If this option is selected, the names of schedules will not be visible on the page.
Schedule, Job - This option sorts the employees based on the default jobs assigned to each schedule. If there are no employees assigned the default job codes for that schedule, it will not display. Use the Store Settings page to confirm which jobs default to which schedules.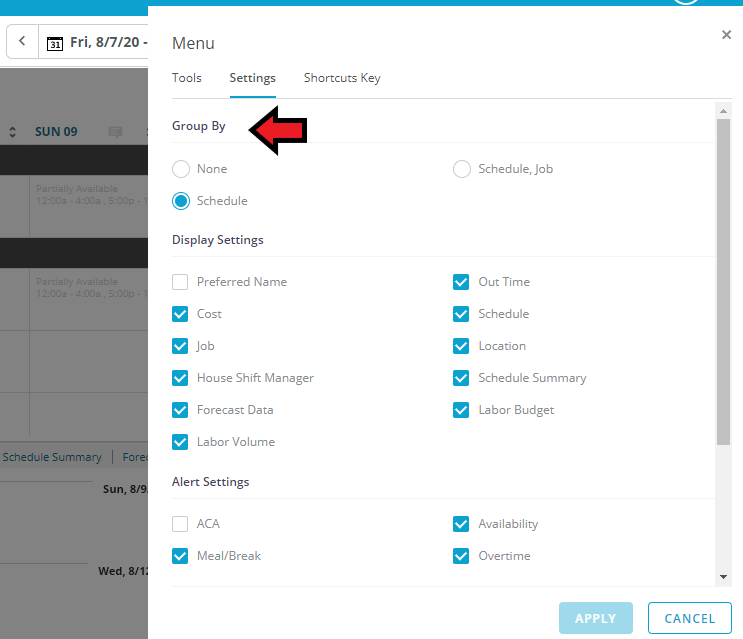 2. Confirm that there are employees assigned to the schedule.
If a schedule is not visible on the Scheduling tab at all (including the Filters), it is possible that there aren't any employees assigned to that schedule. For example, if you just had a new Host schedule created on the Store Settings page, the next step is to assign employees to that schedule on the Staff tab.
Review this article to learn how to assign employees to a schedule.