En Español
Overview
This article will cover how to edit the Scheduler by configuring its settings within the Scheduling tab in HotSchedules.
Editing the Scheduler Settings
Select the Menu drop-down on top right-hand corner of the schedule

Fig.1 - Schedule menu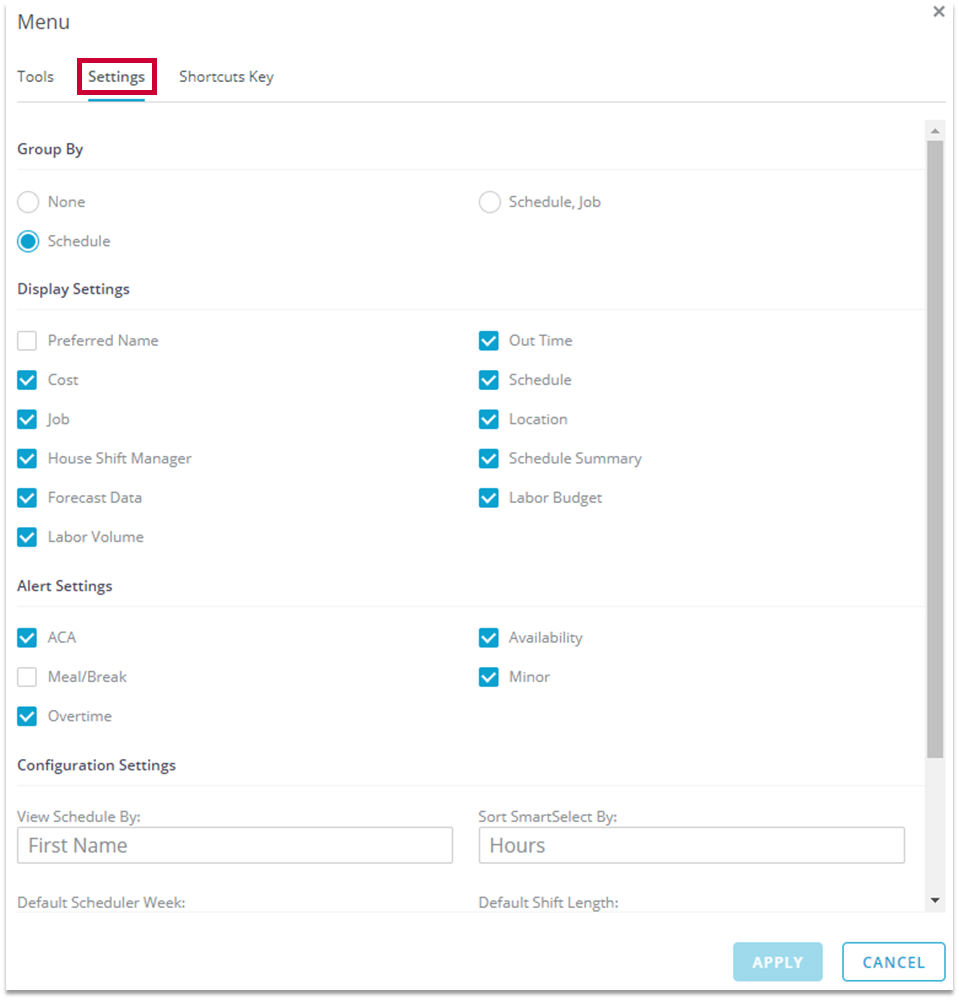 Fig.2 - Settings menu
Group By
This will change the way that employees are organized on the schedule.
Schedule: This will group the employees by schedule assignment only
Schedule, Job: This will group the employees by schedule, then by job that is assigned to that schedule
None: This will organize all employees alphabetically disregarding any schedule or job assignments


Fig.3 - Group By settings
Display Settings
This lists different labels, reports, and shift details that appear on the schedule. Options that have been checked off will show while unchecked choices will not.

Fig.4 -Display settings
Alert Settings
This will edit the alerts that display on the schedule.

Fig.5 - Alert Settings
Configuration Settings
View Schedule By: Allows you to organize employees by First Name, Last Name, or Seniority Date
Sort SmartSelect By: Allows you to organize employees by Cost, Hours, Shifts or Skill when using the SmartSelect shortcut key to assign House Shifts
Default Scheduler Week: Allows you to select the week the scheduler should default to when navigating to this page
Default Shift Length: Allows you to set the default length of shifts

Fig.6 - Configuration Settings
Forecast Comparison
This will allow you to choose to include or exclude the meal duration when comparing the scheduled hours to the forecasted hours that would come from labor generation.

Fig.7 - Forecast Comparison