Overview
Within Purchasing & Inventory (P&I) (also known as Adaco), when requisitioning items from Outlet to Outlet, there may be instances where an item is requested when there are none available in the system.
It may be preferable that limits are placed on the Outlets that have the ability to post these transactions. This article will guide through the process of how this can be configured.
Configuration

Allowing more Stock than Available
Go to Property > Administration > Requisition
Select Allow requisition request more than available stock, as per Fig.1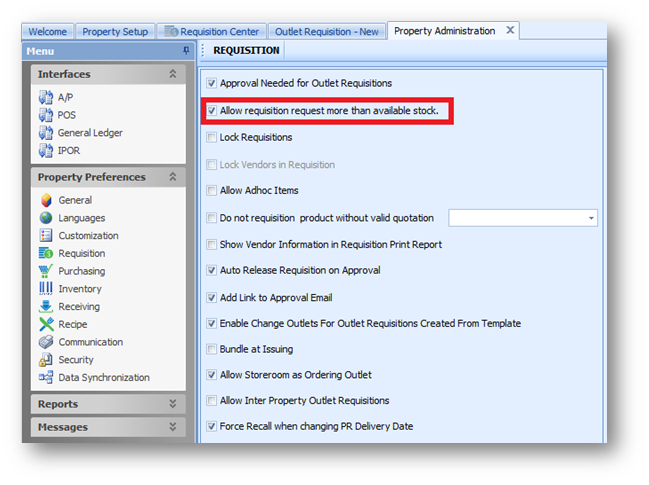 Fig.1 – Property Administration
Choosing which Outlets can Post Transactions for more than Available Stock
Go to Property > Setup > Outlet
In the Validate Stock column, only select the Outlets that should not be able to go into negative stock values

Fig.2 – Property Outlet
When an Outlet is disabled from going into negative stock using the 'Validate Stock' column, an Outlet Requisition will still be able to be saved and approved. However, the Requisition will not be available to be posted.
When an Outlet is disabled from going into negative stock using the 'Validate Stock' column, the following system actions will occur:
Outlet Requisitions can be saved, and approved if necessary, but not posted

Transfers cannot be posted

Supplier Returns can be saved but not posted

Automatic POS Sales will be imported but not posted (processed to deduct stock)

Manual POS Sales cannot be posted
Further info regarding stock validation types can be found here: Purchasing & Inventory - Administration: Property Preferences (Inventory)