Summary
Hospitality Jobs UK Integration Enhancements
Introduction of new fields to fill in when publishing vacancies to Hospitality Jobs UK (HJUK)
Release date: May 10th 2023
Hospitality Jobs UK Integration Enhancements
Enabled by Default? - Yes

Set up by customer Admin? - No

Enable via Support ticket? - No

Affects configuration or data? - No
What's Changing?
Additional settings when posting a vacancy to HJUK.
Reason for the Change
Following additions to the Hospitality Jobs UK API integration, these new fields are required to categorise vacancies, in order to get the highest number of applications possible.
Customers Affected
All ATS customers who integrate with HJUK.
Release Notes/Steps
Most of the time, requests are made during the vacancy creation process. For more information about creating vacancies, please see WFM UK: ATS - Creating and Editing a Vacancy.
To make a request to publish to HJUK, go to ATS >Vacancies > select Vacancy > Edit
Select the Hospitality job board (see Fig.1)


Fig.1 - Edit Vacancy > select 'Hospitality'
Selections made under 'Additional Settings' are populated with values set by HJUK and will be sent with the request to post. They are required by HJUK to ensure that all vacancies are advertised correctly. The additional settings are:
Job title or Business Area

Location

Sector

Salary

Once the options have been set, select Post on hospitality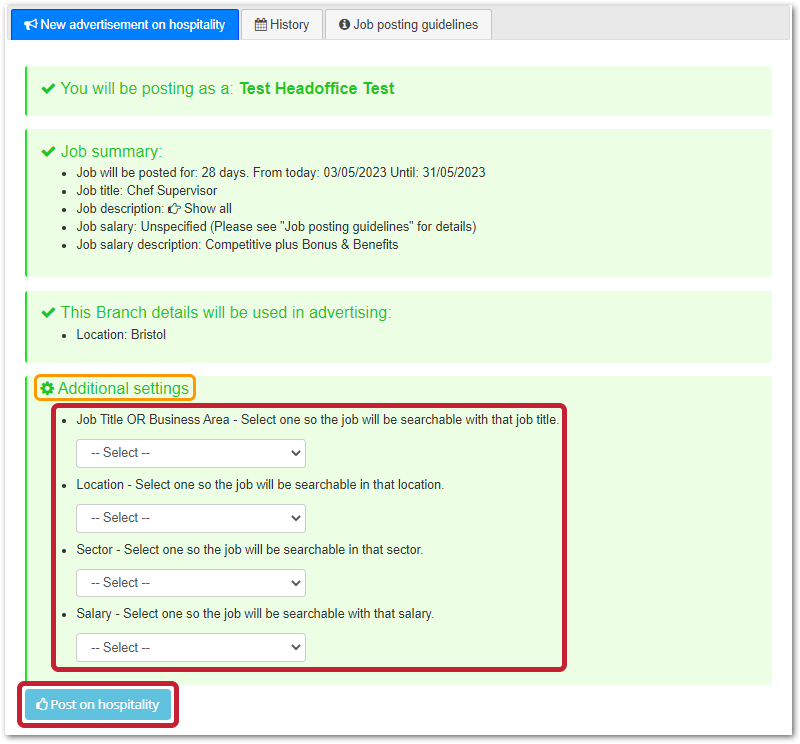 Fig.2 - Additional Settings
Select OK from the pop-up confirmation box


Fig.3 - Confirmation to post on HJUK
The vacancy will then be submitted for approval.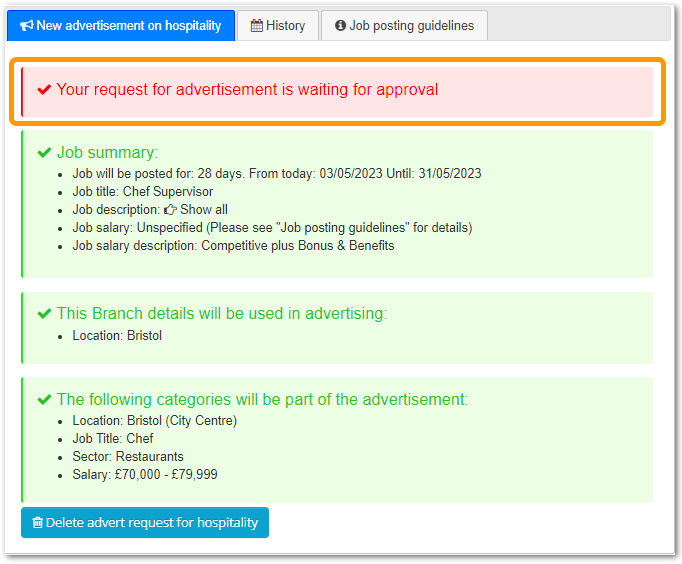 Fig.4 - Hospitality Request pending