Once you have a schedule created, you have the ability to copy the schedule over to another week, and then adjust that new schedule based on the needs of that week.
While within the Scheduler tab, click the MENU button icon, and select COPY SCHEDULE.
In the Copy Schedule modal, select the week you wish to copy from (Source Week), the week you wish to copy to (Target Week), and the schedule(s) you want to copy.  You also have a few additional options for the new schedule you're creating.
Create House Shifts for Availability Conflicts - When you copy a schedule into a new week, there's the possibility an employee could have a different Availability than they did in the Source Week you're copying from.  When this box is checked, a shift being copied to an employee with an Availability conflict will be placed in the House Shift Manager and will be available for another employees to pick up.
Copy House Shifts - When this box is checked, any House Shifts in the Source Week will be copied as House Shifts in the Target Week.
Copy Meal/Break Edits - In the event changes were made to Meal and Break times, checking this box will copy those changes into the Target Week.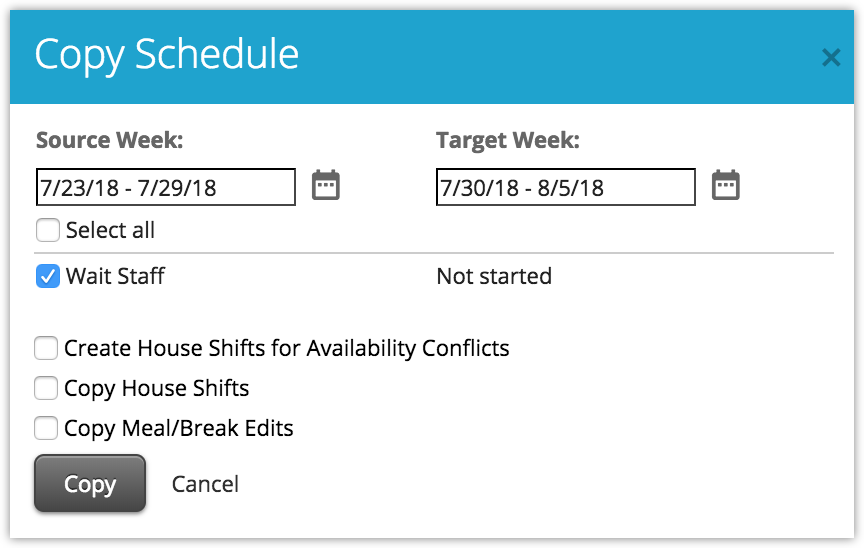 Some things to keep in mind:
The Target Week must not contain any shifts, or the copying process will not work.





It is recommended to copy a schedule 

directly after

posting the initial week's schedule.  That way, the copied week will mirror the first week without any of the shift transactions that may occur later on.