Overview
This article covers the steps required to assign suppliers to sites in Inventory, along with the possible additional options that might be available depending on your configuration.

New suppliers are requested via the Support Team. Their assignment to sites is managed by the customer.
Process
Assigning a Supplier to a Site
To assign a supplier, navigate to Inventory > Setup > All Options > Browse Suppliers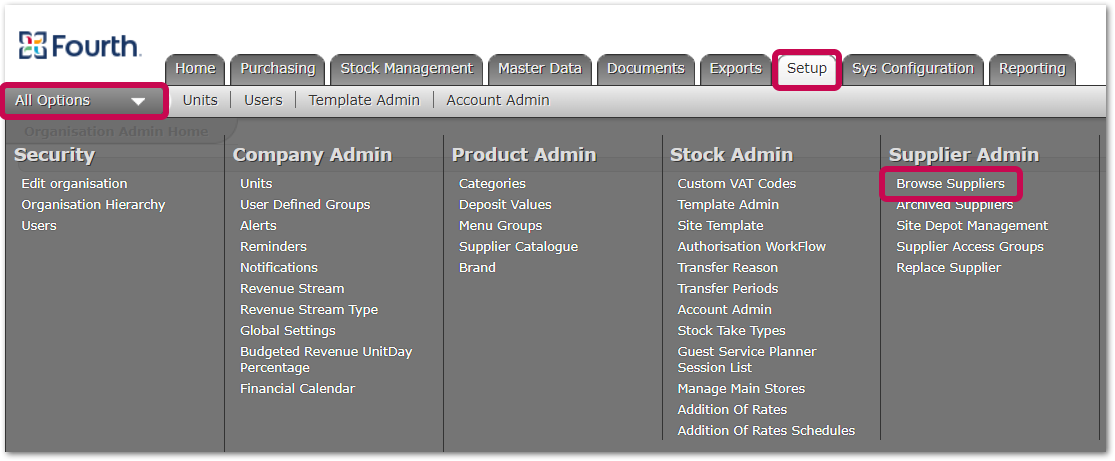 Fig.1 - Browse Suppliers
Select the required Supplier and then go to the Where Used tab
A list of sites that the supplier is currently assigned to will be displayed.
Select Add Supplier to Site/Change Depot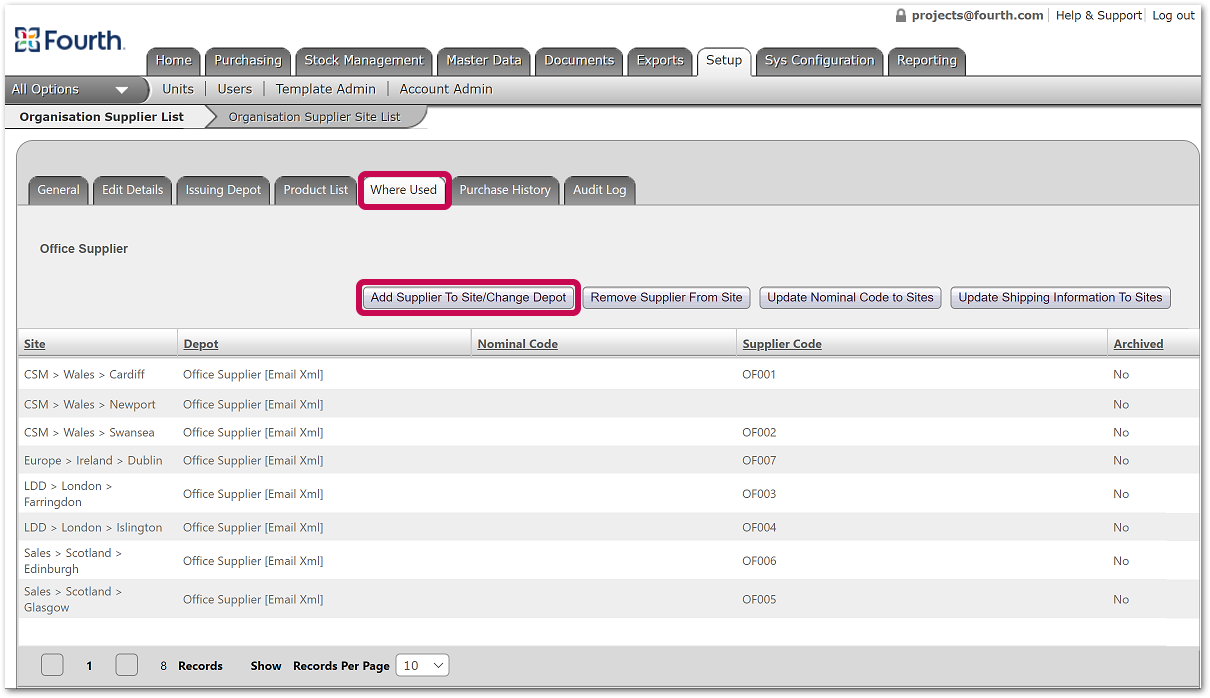 Fig.2 - Where Used > Add Supplier to Site/Change Depot
Expand the hierarchy to select the required site(s)
Any sites already assigned will show a green tick in place of the checkbox (see Fig.3)
Where multiple depots exist, select the required depot - t

hese are often email or FTP (EDI), or customer-specific email options
Where enabled, site-specific email overrides may be available.

Any email address entered here will override the organisation's email configured against the selected depot. When left blank, the default will be used. To enable this option, please contact your nominated Fourth representative.
Fig.3 - Depot & site-specific email
The next screen will provide some additional options (detailed below) that can be utilised depending on the specific configuration.

If these are required, your Fourth representative will have confirmed this during implementation. Otherwise, simply select Save.
Site-level Nominal Code

Supplier Site Code

Where required for EDI integrations, the Supplier Site Account code can be entered here

Vendor Full Catalogue Access
If required, enter any specific values at this stage and then select Save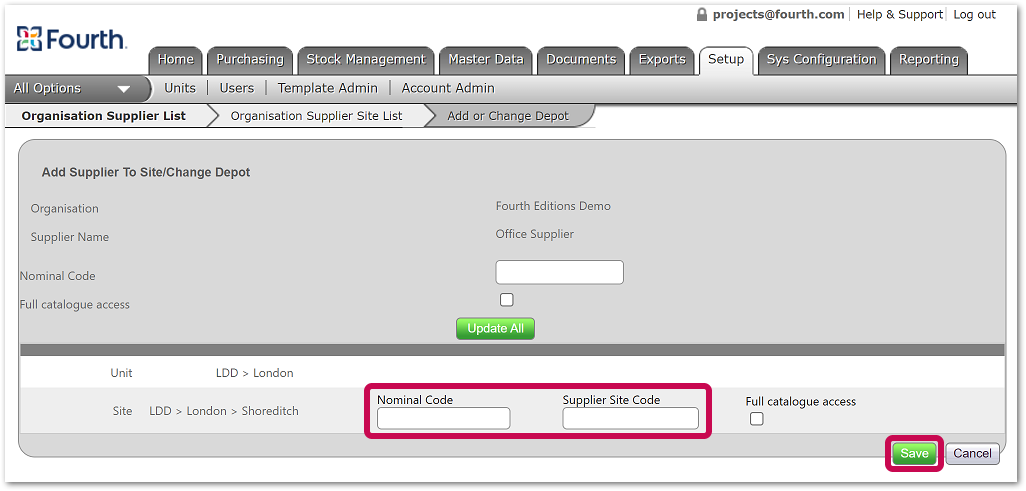 Fig.4 - Site-specific Nominal Code, Supplier Site Code & Full Catalogue Access
Updates to Already Assigned Suppliers
The following updates can be completed as part of the Add Supplier to Site/Change Depot workflow:
Supplier Depot assignment

Site-specific email overrides
The following updates can be completed as part of the Update Nominal Code to Sites workflow:
Site-level Nominal Code

Supplier Site Code

Vendor Full Catalogue Access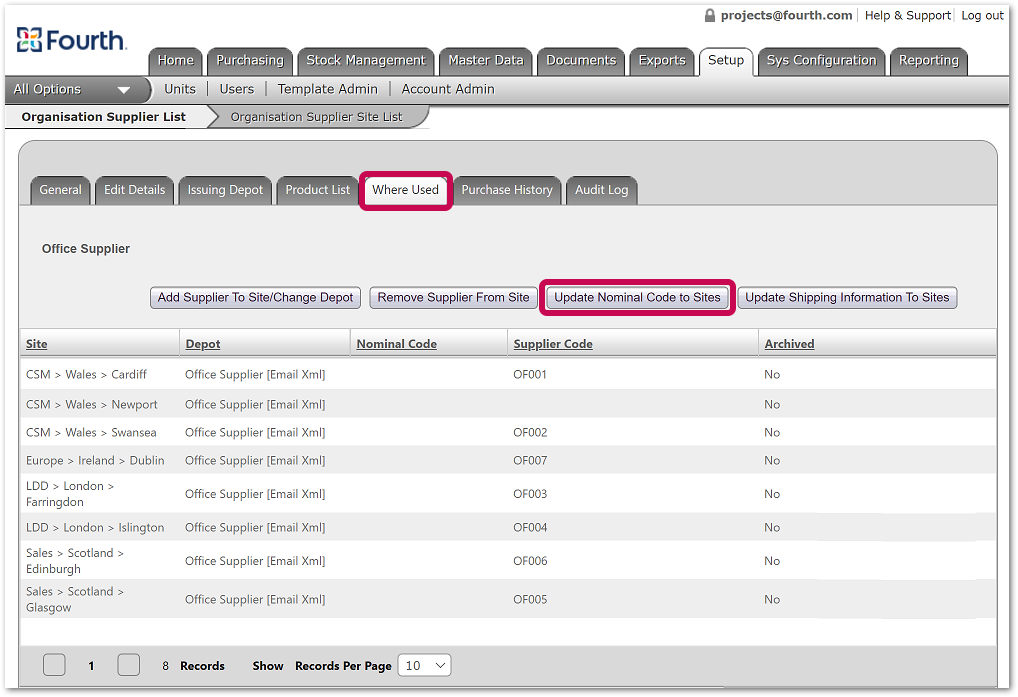 Fig.5 - Update Nominal Code to Sites
Related Articles
Inventory | Restaurants: Nominal Code Entry
Inventory | Restaurants: Supplier Delivery Logic
Inventory Release Note: Full Access to Vendor Catalogue in Ordering app