Released 11.04.2021
Enhancements
ASC - Company Settings: Managing Secondary Jobs for Rehire
This new company setting gives the ability to force the removal of secondary jobs when a terminated employee is rehired.
When this setting is enabled, this will trigger the managers updating assigned jobs and rates when the employee is rehired.
With the appropriate ASC admin account, you can see if this setting is enabled for your company.
Login> Configure> Company Settings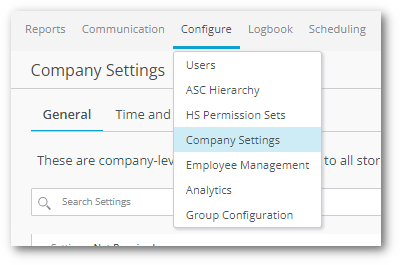 Scroll down and you will find the setting listed, "Manage Secondary Jobs on Rehire"
From here, you can see whether or not you have it enabled to leave the secondary rates upon rehire.
***Note: This only applies to terminated employees, not inactive employees who are rehired.
Staff - Block Multiple Future Shares
Previously, employees were allowed to be shared more than once to the same store. Rather than allowing additional future dated shares that can cause availability conflicts between stores. With this release, an employee can no longer be shared to a location where an active share already exists.
For future dated shares, this change requires that the share end date for existing shares is edited. This is accomplished by extending the date at the existing store for the employee.