Overview
A terminated employee can be rehired through the Fourth HR/Payroll system as long as they were marked as Ok to Rehire. The system will ask users to configure some employment details before launching a new onboarding for the rehired employee. After this, their onboarding status can be tracked just like a new hire.
Rehire Terminated Employees
To rehire a terminated employee, navigate to the Rehire page within Fourth HR/Payroll. This can be selected through the HR | Action menu, or search for the Rehire page in the search bar.
Locate and select the employee

Search for the employee by their name, social security number, or ID

Or select Employee to open a list of terminated employees that are eligible for rehire
Note: Users will not be able to select employees whose Rehire OK flag is set to No on the Employee Details page.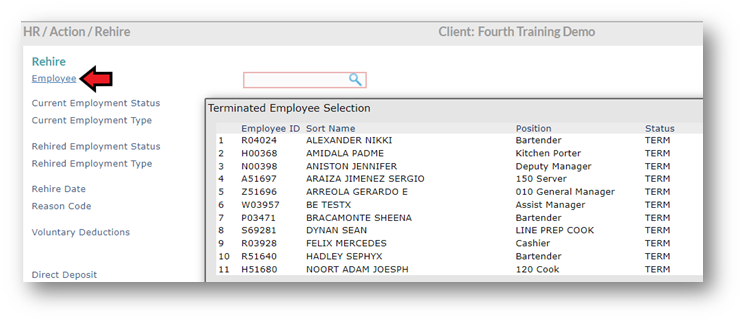 Fig.1 - Locate and select the employee on the Rehire page
Select the Rehired Employment Status

Fig.2 - Rehired employment status selection
Select the Rehired Employment Type

If part time, select VAR PT

Fig.3 - Rehired employment type selection
Enter the Rehire Date
Select the Reason Code "OTHER"

Set the following options for the rehired employee:

Choose whether to stop any Voluntary Deductions or Direct Deposits that were previously set up for this employee
Benefit (Medical, Retirement, PTO) - Auto-enrolls employees into Medical, Retirement, or PTO plans that have auto-enroll rules configured (this option only works with rehires if the employee does not have an existing Benefit/PTO record)
Seniority Date - If appropriate, enter the date to use in place of the Rehire Date when determining the employee's eligibility for benefit plans

Select Go to Employee Details to make additional changes and launch Onboarding
Select Save and Continue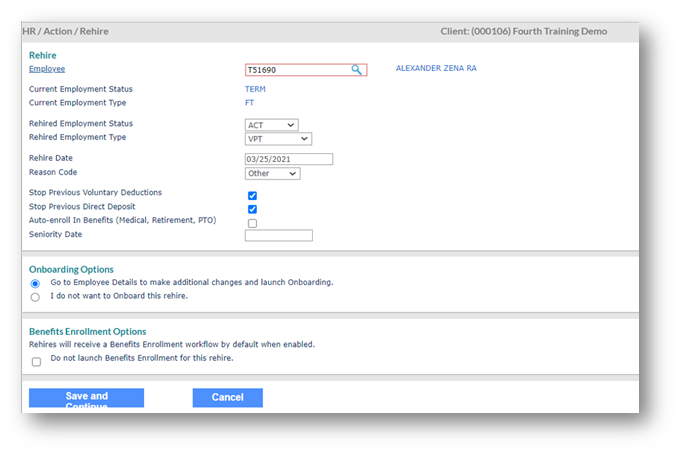 Fig.4 - Completed Rehire page
The system will take you to the Employee Details screen. Make any necessary adjustments to the employee record and select Save & Onboard Now.
The employee will now be in Onboarding!
Fig.5 - Employee Details screen