All employee primary pay rate changes must be completed within the HR/ Payroll application. Note: the below guide is for changing an employee's primary pay rate change; all additional Multiple Employments must be actioned through the HotSchedules application.
Once the designated employee has been located within HR/ Payroll, the user must ensure the "Pay" tab (highlighted below) has been selected.

From the "Pay" tab on the Employee Details screen, the user must now select "Pay Rate Change," highlighted above.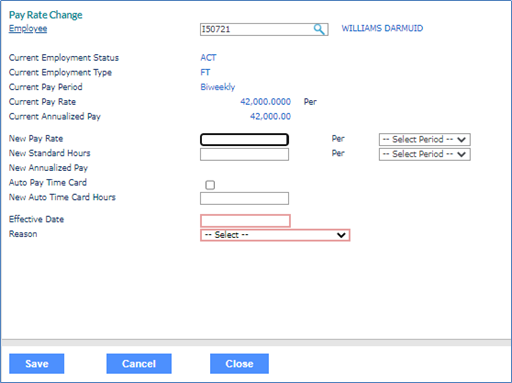 Once the above "Pay Rate Change" window appears, the below information is mandatory and can all be filled out via pre-populated dropdown selections-
New Pay Rate

Per (If the rate above is entered as hourly, select hourly. If the rate is entered as annually, then it is annual)

New Standard hours (40 if payroll is weekly, 80 if payroll is bi-weekly)

Effective Date

Auto Pay Time Card- Only select if this is a salaried position
Once successfully filled out, example shown below, the user must now select the blue "Save" button.