Overview
Fourth Analytics allows users to export dashboards, reports, and graphs so that the data can be further analysed and shared within the business.
The Time and Attendance (T&A) Dashboard is available for Workforce Management customers using T&A clocks via EPOS or Synel clocking in machines.
The Time and Attendance Dashboard contains a set of Tabs:
TA Summary
TA Trend
Clock Status
Data feeds into Fourth Analytics once daily.
Types of Transactions:
Clocked Hours
Actual Hours
Forecast Hours
Data Sources
Clocked Hours – Clocked hours are captured via Point of Sales clock-in / clock-out records synchronised with advanced scheduling / Labour Productivity
Actual Hours – Shift time (start/end) verified by the manager completing the rota for the day. Hours can differ from Clocked Hours
Forecast Hours – Forecasted shift time (start/end) from the rota as scheduled by the manager
Time & Attendance Summary Tab
The TA Summary tab shows a comparison between Forecast, Clocked and Actual hours worked.
Access to this information helps to analyse behaviour and identify exceptions. Poor forecasting can lead to overstaffing, with employees leaving shifts early affecting their pay, especially when on flexible contracts.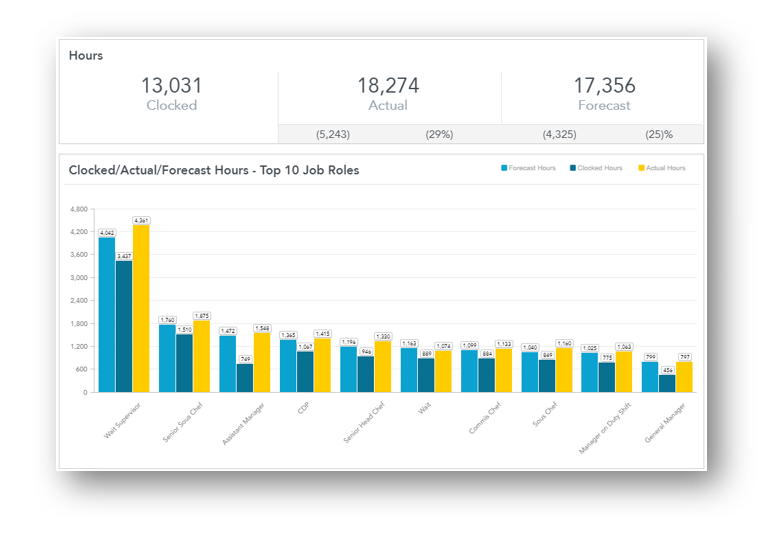 Fig.1 - Overview tab
Time & Attendance Trend Tab
The TA Trend tab shows a comparison between Forecast, Clocked and Actual hours worked by financial week and Clock Status trend.
Trend reports indicate how T&A compliance is progressing, specifically by Week and Location to help the user identify good and poor compliance.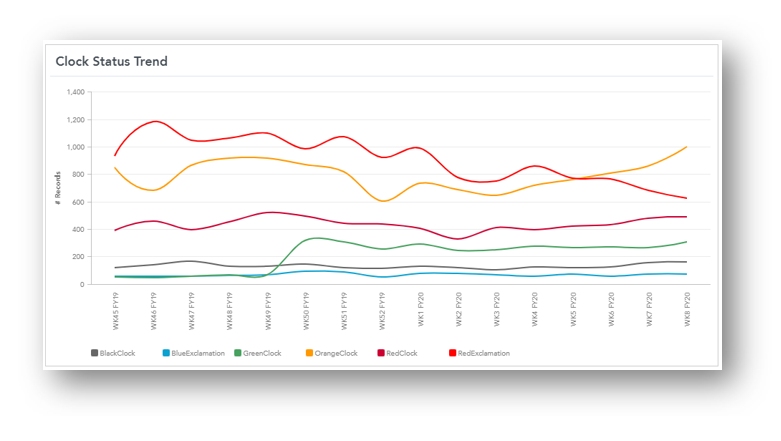 Fig.2 - TA Trend report in the Time and Attendance dashboard
Clock Status Tab
The Clock Status tab provides a detailed breakdown of Clock Status by Location, Department and Day.
Clock Status is determined by the clocked Start and End Times vs Scheduled Start and End Times.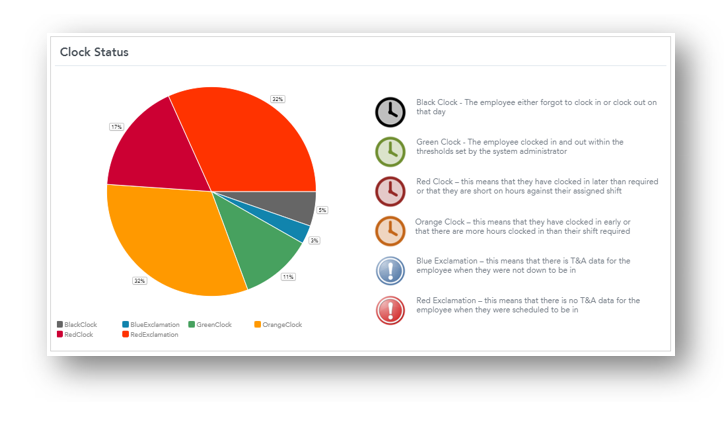 Fig.3 - Clock status tab in the Time and Attendance dashboard
Exceptions Report
The Green Clocks Exceptions report shows any records that have a Green Clock assigned even though there is variance between the forecast and clocked hours.
The reason the clock colour is Green is that the start and end time is within the threshold.
The last column identifies that this record is an exception and should be reviewed. This may simply be an error in the user not clocking in and out for their break or the information being sent from the T&A machine.

Fig.4 - Example of the Exception Report
Further Links: