Overview
Fourth Analytics allows users to export dashboards, reports, and graphs so that the data can be further analysed and shared within the business. This article will explain the Payroll dashboard.
Data is displayed by Tax Year, Pay Period and Pay Basis configuration within Payroll. This includes Payroll Company if more than one company exists within the WFM portal.
The tabs on the Payroll Dashboard are:
Payroll Overview
Payslip Details
Payroll Data Accessible in Analytics
Note: Payroll Data is highly sensitive and cannot be given to all users. It is not possible to restrict payroll data by location in Analytics.
Payment Types – All employee payment types are exported to Analytics including basic pay, additions, deductions and company benefits including sick pay. Employee pay data is broken down by employee, and also by payment category, type, and description. It can be mapped with employee details from HR including location, age, nationality and employment type.
Employer Payments - Employer payments such as employer pension contributions, and employer national insurance, are captured by the employee but cannot be mapped with the default location the employee is assigned to.
User Permissions – The Payroll dashboard is restricted to Analytics users that have permission to access Payroll data in WFM.
Date Range – Payroll data can only be sliced by Payroll periods and not by rota week date ranges. This is because Payroll data is typically not paid by rota period i.e. week.
Payroll Overview
The summary section provides Gross Pay amounts by Tax Year and PayPeriod.
Summary charts show the breakdown by Pay Basis, and contract type (from the HR module), as well as the number of employees processed.
The reports cannot be filtered by location, only by employee details like employee number, employment and contract type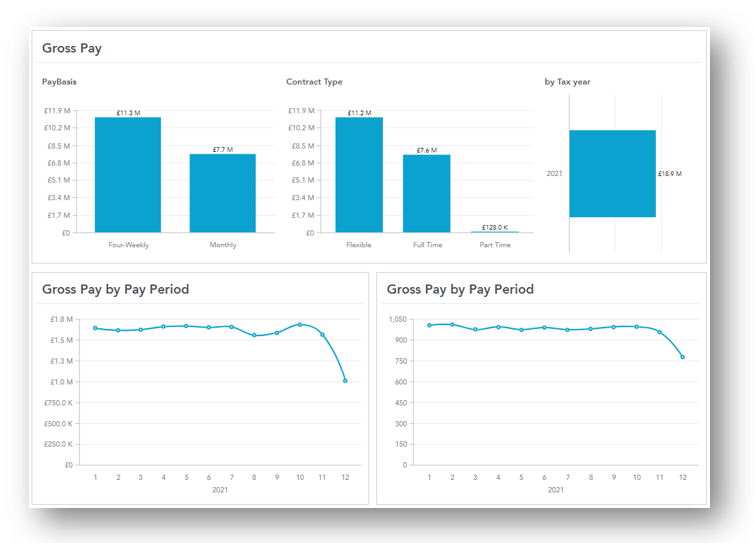 Fig.1 - Payroll Dashboard
Payslip Details
The Payslip details dashboard allows users to report and analyse employee pay. This can be particularly useful when needing to know how much pay has been received by employees on certain schemes, bonuses, and comparing and contrasting remuneration across the organisation.
Parameters can be used to filter results based on pay period, payment type and employee status (current vs former).

Fig.2 - Payslip Details