What's Changing?
Modification to the document preview functionality in the ATS (Applicant Tracking System) to allow default device browsers to handle the viewing or downloading of documents

Online Share Code RTW (Right to Work) checks now available for customers to allow hiring managers to be able to use online share codes provided by candidates to conduct eligibility to work in the UK

Support for Scottish Student Loans and Post Graduate Loans within ATS Contracts
Release date: 24th February 2021.

Reason for the Change
New functionality

Delivering root cause fixes for document preview slowness and incompatibility issues

Bug fixes
Customers Affected
All Fourth ATS customers.
Release Notes
Document Preview Functionality
Allowing device default browsers to handle the opening/previewing of documents
Document previewing in ATS previously relied on multiple third-party APIs (Google and Microsoft) to load and view documents inside the 'Document Preview' modal, with varying loading speeds across customers. This is dependent on document size as well as document formats.
The document preview functionality has now been simplified and brought in line with our ecosystem of Fourth products to allow the users' default browser on their device to decide how the document should be displayed.
1. If the browser can support a document format, then it will open this document in a new tab within the same browser window
2. If the browser does not support the viewing of a particular format, the browser will default to downloading the document to the user's device
3. Improvements have been made to the file upload functionality to limit the file formats that candidates and users of the Admin portal are able to upload
The files that users can upload within the Candidate portal and Admin portal are limited to:


Fig.1 – CV Upload Help Text on Application Form

4. Any file types that fall outside of the above formats will still be available for users to either open and preview within the browser or download to their device, dependent on compatibility with the specific browser and device used
5. The new document preview functionality also resolves the 'An error occurred' and 'No preview' error messages reported by some users when trying to preview documents previously within the ATS
Using Online Share Code for RTW checks in TrustID
Introducing a new document type within Trust ID for Managers to use for RTW checks
Previously, the TrustID app did not allow the use of the Online Share code available to job applicants or current employees under the EU Settlement Scheme. This has now become available as an alternative option to other personal documentation such as a passport or a resident permit, which can be used to carry out a RTW check via the TrustID app.
TrustID has added an additional option in the 'Document' section which allows managers to enter the online share code to carry out RTW checks.
Enter Online Shared Code can be selected if applicable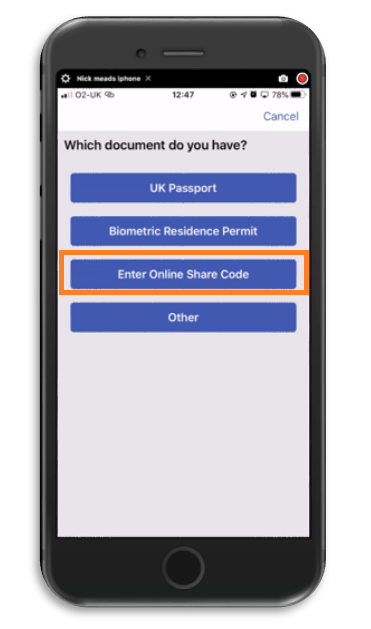 Fig.2 - Enter Online Share Code option
Then add the Date of Birth and share code of the applicant or current employee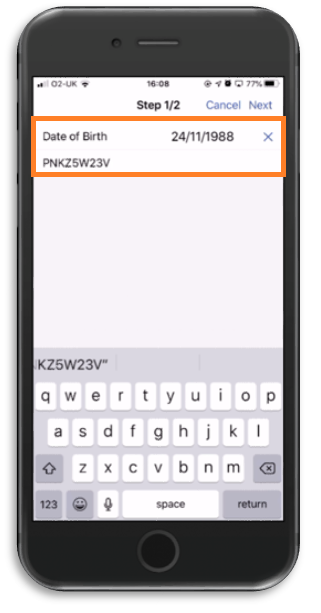 Fig.3 – Entering Date of Birth and Share Code


Once submitted the screen will reload, displaying a profile image of the candidate.
Select Yes or No to confirm that the image matches the candidate or the current employee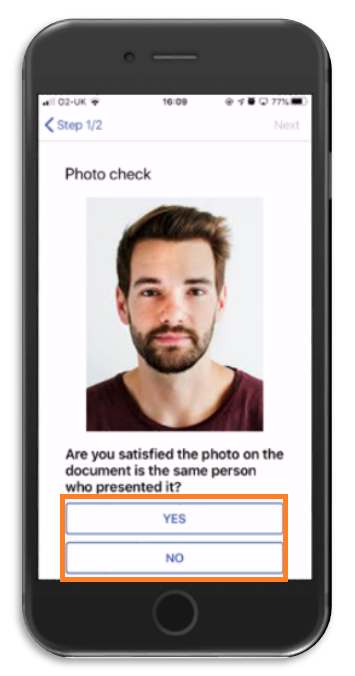 Fig.4 - Confirming the profile image
Add more documents if required or select Skip to move on to the next stage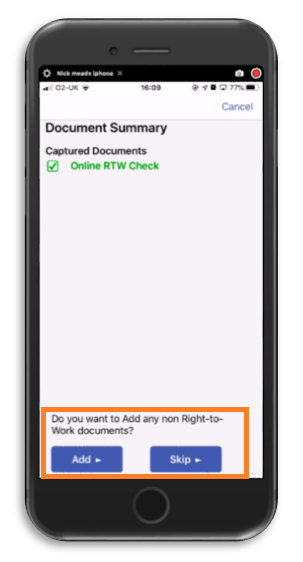 Fig.5 - Adding additional documents or skipping to the next step
Select Finish Upload Document, which submits the check to TrustID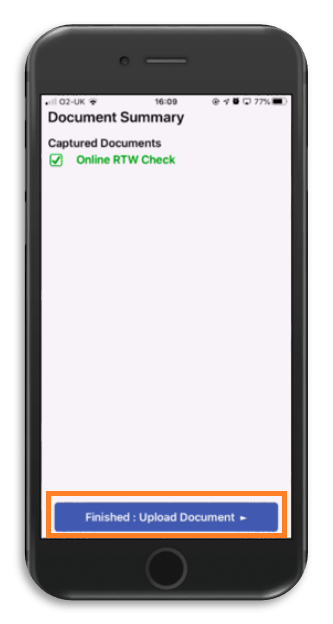 Fig.6 - Finishing uploading documents

Recording Nationality & Settlement Scheme Status in WFM when an employee is hired
The Home Office does not provide a candidate's nationality under the EU settlement scheme. Therefore, an employee hired via the ATS under the scheme is recorded as a Non-British or Non-Irish Citizen in the HR module.


Fig.7 – Nationality on an Employee Record in HR

In addition, the Home Office does not provide a candidate's settlement status (i.e. Settled status, Pre-Settled status, or Temporary Leave to Remain). Only an expiry date for Pre-Settled status or Temporary Leave to Remain status is provided.
Therefore, an employee hired via the ATS under the scheme will have the Proof or Eligibility status 19. Online Share Code used to prove immigration status/EU Settlement Scheme Status
For employees with an expiry date associated to their online share code RTW check, the Temporary Leave to Remain Date will populate within their employee record in the HR module, as shown in Fig.7

For employees without an expiry date associated to their online share code RTW check, the Proof of Eligibility will be displayed along with a blank Share Code box.

Fig.8 – Share Code Box for employee without expiry date
The share code itself does not get recorded on the employee record in HR as it is only valid for 30 days.
The online share code RTW certificate is attached to the employee record within HR. An additional document type called 'OnlineShareCode*' has been created and is used for EU Share Code RTW certificates.

Fig.9 – Document Type for EU Share Code Certificates
Please note: Government guidance states all employers can continue to use Passports or National Identity cards to carry out RTW checks until 30th June 2021 without the need to use Online Share Codes. Employers cannot require individuals to provide their status (via Online Share Code) according to government guidance under the EU Settlement Scheme until after 30th June 2021.
Here are some useful links which provide some additional information:
https://www.gov.uk/check-job-applicant-right-to-work
https://www.gov.uk/guidance/employing-eu-citizens-in-the-uk
https://www.gov.uk/guidance/recruiting-people-from-outside-the-uk-from-1-january-2021

Scottish Student Loans & Post-Graduate Loans within ATS Contracts
Changes to the ATS Contracts in line with new HMRC 'New Starter' form guidelines for 2021
HMRC has changed the new starter form for 2021, which enables employers to capture additional student loan information, ensuring they are able to complete payroll effectively.
Fourth will be making changes to the New Starter forms within customer Contracts in ATS to bring this in line with HMRC requirements for 2021 onwards. Fourth will contact all ATS Customers to confirm those changes prior to April 6th 2021.
These changes include:
1. Capturing Scottish Student Loans as a new student loan type – 'Type 4' within the New Starter form (as shown in Fig.10)
2. Ability for candidates to specify whether they have a postgraduate loan within the New Starter form in addition to a student loan


Fig.10 – Scottish Student Loan Type
Student loan data captured will subsequently be recorded within the employee record once the candidate has been successfully hired (see Fig.10).