Overview
The Scheduling tab will list all employees that are available to be assigned shifts. In order for employees to be scheduled they must meet certain requirements within he scheduler. This articles provides information to review to determine why an employee may not be able to be scheduled a shift.
If you need more information first about creating or editing shifts, see HS Scheduling: Creating and Editing Shifts.


Troubleshooting
If you ever find that a shift cannot be assigned to a specific employee, there are a few things you can check. See the following topics:
Confirm the Employee is Assigned a Job Code and Schedule
Every shift has a job code and schedule associated with it, so any employee that is available to work that shift must be assigned the same job and schedule. For example, an employee that is only assigned the Server job code will not be able to work a shift with the Bar job code. From the Scheduling tab, there is a quick way to check which jobs/schedules have been assigned to an employee.
From the scheduler, select the employee's name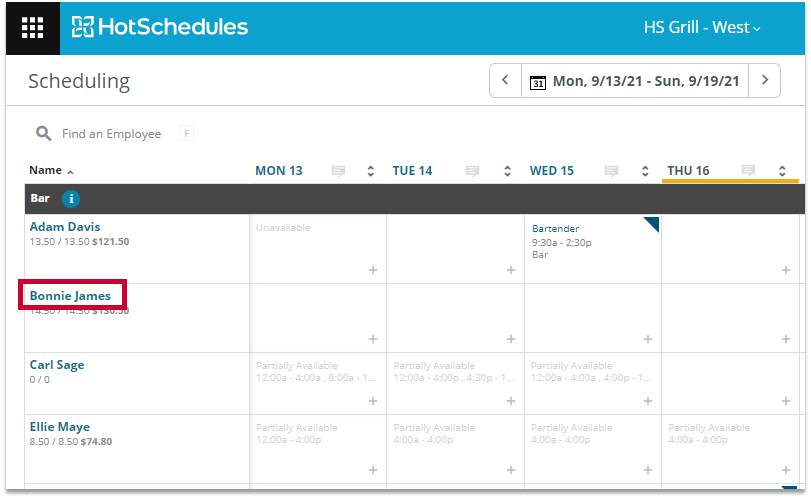 Fig.1 - Select name of employee


Then a pop-up will display, select Schedules/Jobs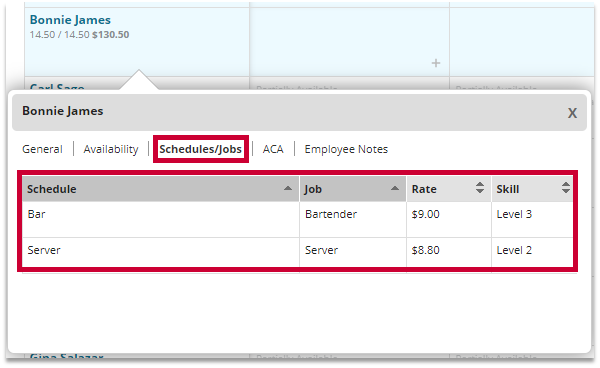 Fig.2 - Schedules/Jobs


If you find the employee needs to be assigned a specific schedule, review HS: Assigning and Removing Schedules from Employees to learn how to assign additional schedules to an employee.
Please note: Job codes can be also assigned on the Staff tab. However, if you find the job code is not assigned to the employee and your HotSchedules site is integrated with a POS system, new job codes must be assigned in the POS to sync over to HotSchedules.

Check for an Overlapping Shift
The Scheduling tab will not allow an employee to be scheduled overlapping shifts. A second shift can start as the first shift ends, but you will receive an error if the times overlap. If a shift is being attempted to be added with overlapping timeframes, an error will display on the shift editor.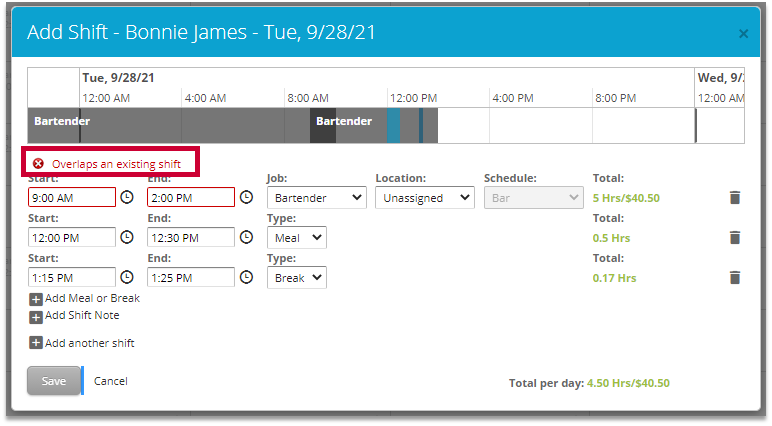 Fig.3 - Error
Check the AM/PM setting of the time of the previous shift to confirm that it is the correct length
Example: An employee should be working from 5:00 PM - 10:00 PM on Monday and 9:00 AM - 2:00 PM on Tuesday. However, if the Monday shift is accidentally set as 5:00 PM - 10:00 AM, then it would overlap with the Tuesday shift.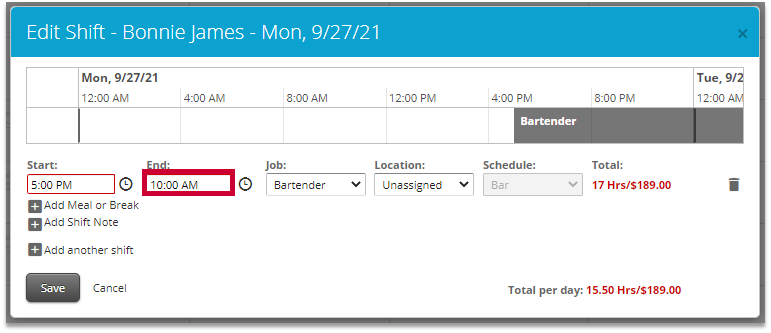 Fig.4 - Monday shift overlap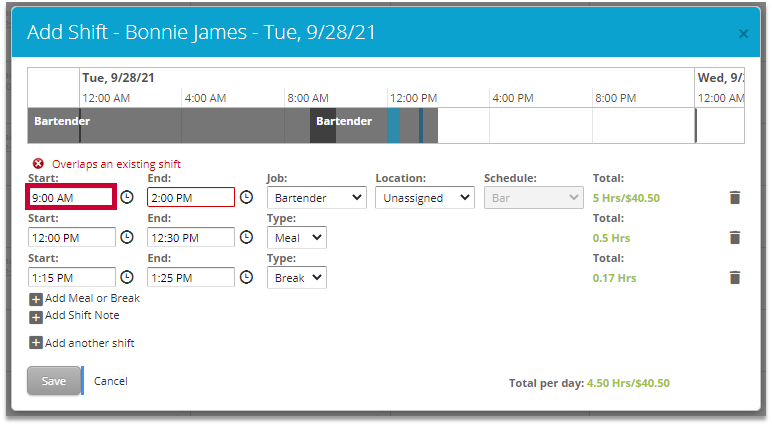 Fig.5 - Tuesday shift overlap


Correcting the shift on Monday to 10:00 PM will allow the shift on Tuesday to be scheduled, as the shifts would no longer be overlapping


Check for Approved Time Off
Approved time off will display on the scheduler and will prevent managers from assigning that employee a shift.

Fig.6 - Shift modal: Approved time off


If there has been a change in plans, approved time off can be denied on the Manage Time Off page. Then, the employee could be scheduled on that day. See HS Time Off and Requests: How to Override Approved Time Off for more details on this process.
Related Articles
HS Scheduling: Creating and Editing Shifts
HS: Assigning and Removing Schedules from Employees