Released 11.26.2018
Did you know Richard Nixon once called in staff to help him open a childproof allergy pill bottle?  Apparently the cap had teeth marks on it where he tried to gnaw it open.  While you think about that, sink your teeth into some post-Thanksgiving Release Notes.
New Features
Essentials Expert Setup Call
Running a restaurant is difficult and time-consuming.  Since the beginning, HotSchedules' main goal was to not only save you money on labor costs, but to save you time as well.  Now, as a HotSchedules free trial user, you have the option of scheduling an Expert Setup Call when you upgrade to Essentials or Essentials Plus so one of our Implementation technicians can help you configure your HotSchedules site.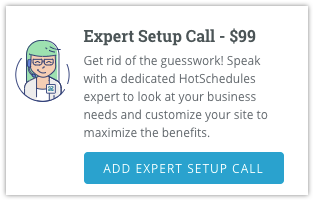 Enhancements
SmartView Zooming
While in the SmartView, you've always been able to zoom in and out by pinching and pulling your fingers on a trackpad or by holding CTRL and scrolling up and down, but now you're able to use the new magnifying glasses at the top of the Scheduler to zoom in more accurately with one click at a time.
Delete Forecasted Labor
Often times, as a Clarifi Labor customer, you might write your schedules for a few weeks in the future only to find the original forecasted information provided is different than when you first posted the schedule.  Now, you're able to delete the forecasted labor from the Generate Labor area of Forecasting.

Once you've deleted the labor volume, you can view the updated version of it by simply selecting GENERATE LABOR for the Jobs you want.
Deleting forecasted labor will never affect your posted schedules, so you don't have to worry about losing any information, however, if your site's Forecasting creates House Shifts, those shifts will be removed.  If you only use Forecasting to compare labor volume with what you've created, any House Shifts will remain.