Released 04.12.2018
New Features & Improvements | Mobile v.4.79
Approving Availability Labels
The manager approval screens on iOS devices have been updated to display "Partially Available" rather than unavailable time. 

Updating Availability
Improvements have been made to the process of submitting availability to allow the ability to easily add multiple partial availability blocks on the iOS app.  These updates will be available to Android users in a future Release. (A) "Partially Unavailable" was changed to "Partially Available". (B) The default for Partial Availability is 8:00 am - 5:00 pm, but by tapping it, you are able to customize the times. (C) You will be able to add another block on the same page.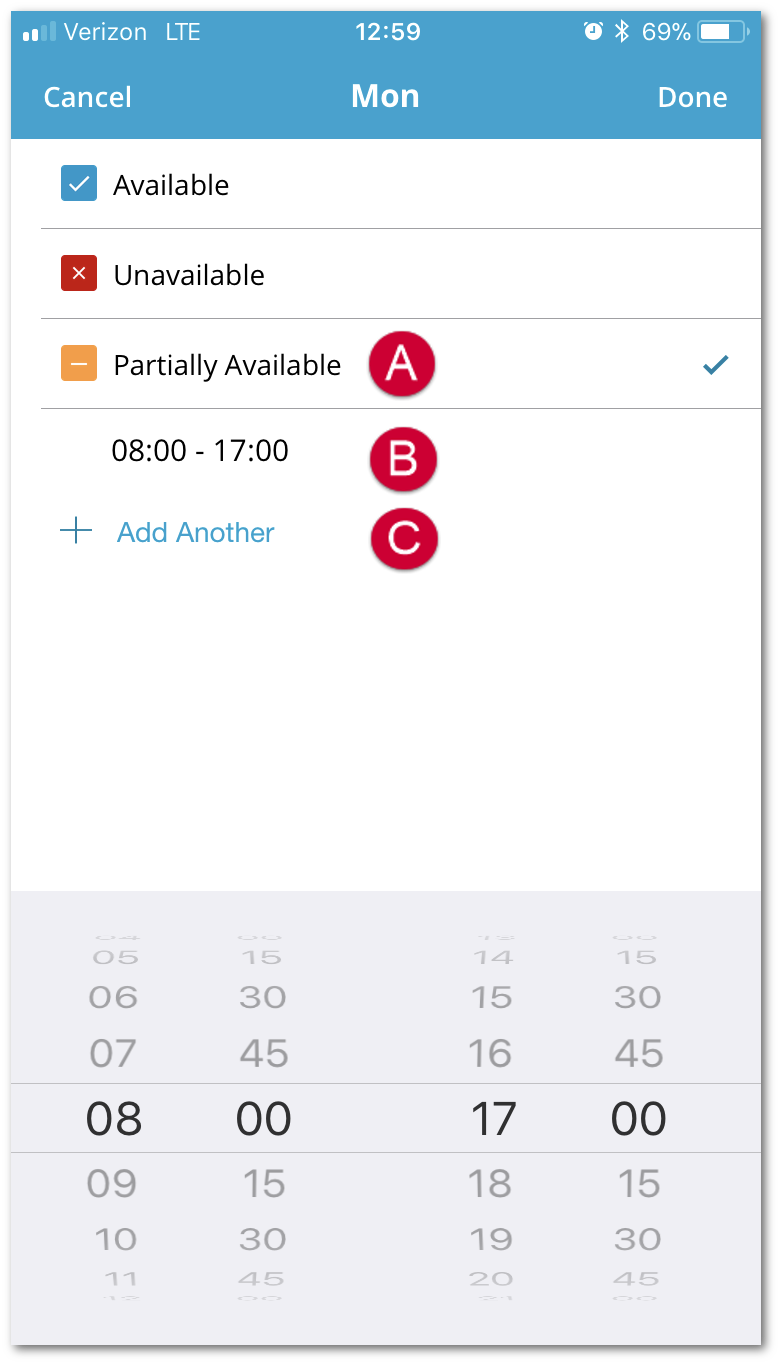 New Features & Improvements | Web
Staff - Add Employee 
The Add Employee page has been updated to match the new design standards seen elsewhere in the web application.




Scheduler - Design Refresh 
The scheduler no longer has the grey frames surrounding it. The Post and Repost buttons are moved to the top right. The Weekly Range and Datepicker are merged into the new style. The buttons for  (A) ClassicView and SmartView are converted to a Toggle. (B) The filter button is in the right-hand corner. (C) The tools button is now "Menu" (D) Post and Repost have been moved to the uppermost right corner.
Filter Changes
The filters button has been moved to the far right next to Menu. To apply a new filter, click on the desired filter  (Schedule, Job, Location or Day Part) and select data you would like to view, then click the Apply button in the lower right corner of the pop-out. Note: With this update, if you had a saved "default" filter, you will need to reset and save as your new default.

Ignore Forecast updates from Clarifi if Labor Exists
The Forecast engine in Clarifi was designed to continuously update so other modules such as Inventory or Prep and Production have the latest data. Labor also uses this forecast for shift or hours generation. Because the engine continuously runs, it's creating a moving target since labor volume was created based on what the forecast was for the week. In order to maintain the original forecast, Labor will no longer accept forecast updates if a site has generated labor for at least one job. This is the case for current and future weeks where labor has been generated.