Released 03.15.2018
New Features & Improvements | Mobile v.4.77
More Mobile Refreshing
The color scheme and fonts of the mobile menus has been improved to more-closely match the branding and style of the web application.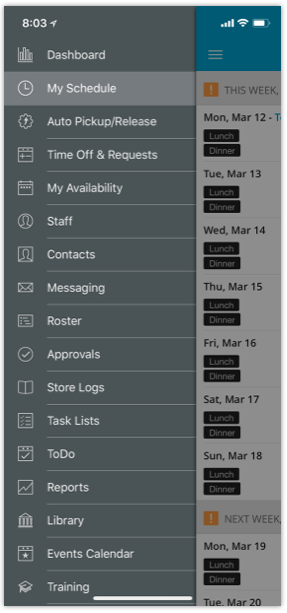 New Features & Improvements | Web
Availability Paint Updates
Various improvements have been made to the process of updating availability including a key in the upper, right-hand corner of the screen, the inclusion of times in each block of availability and unavailability, and overall performance when creating availability blocks.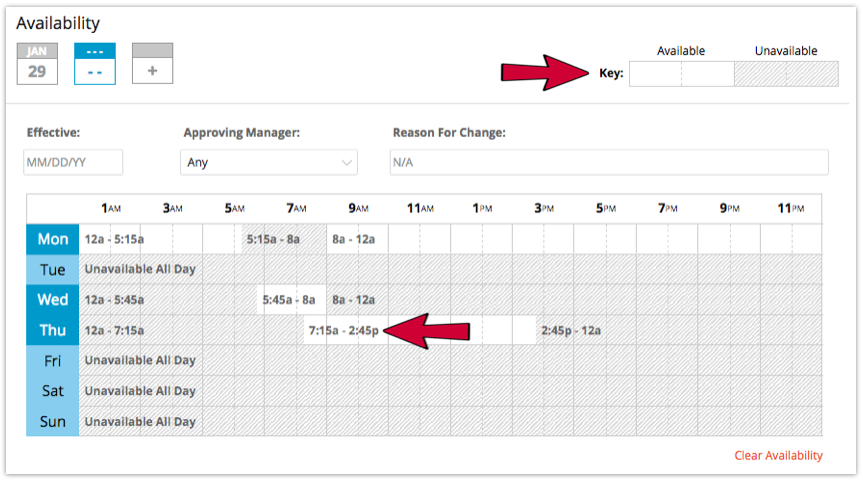 IDM - First Time Login Error Page
An error page has been added to the IDM sign-up flow to match the error pages throughout the rest of the site.
IDM - Hide Reset Login & Security and Welcome Sheets
The Reset Login & Security option in Personal Settings has been removed for users who have created their IDM global profile.
Additionally, managers will only be able to send Welcome Sheets to users who have not set up their IDM profiles since those users will still use their HotSchedules credentials for their initial login.  Once users have set up their IDM profiles, managers will no longer be able to select them when sending Welcome Sheets with the bulk tool.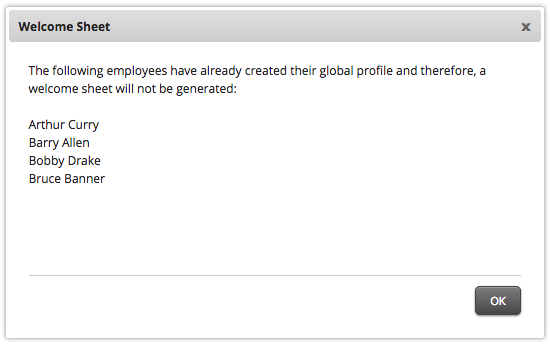 IDM - Global Username on Personal Settings and Send Login Options
The global username for users who have set up their IDM profile will now display in their Personal Settings.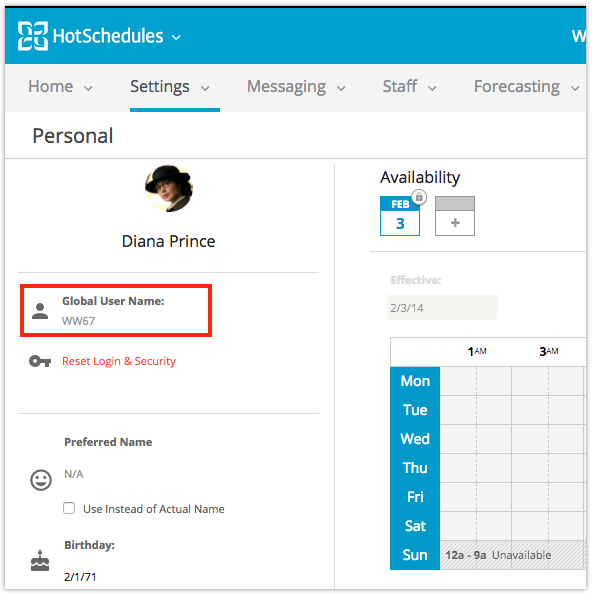 Additionally, employees' usernames and the Send Login option have been removed from the New Staff List Details page.
Scheduler Refresh Phase 1
The Scheduler is in the process of going through a few minor refreshes based on user feedback conducted at the end of 2017.  As part of this refresh, the following items have been updated:
| | | | |
| --- | --- | --- | --- |
| Label | Old Style | New Style | Notes |
| Day Note Icon | | | The icon is now blue and square. |
| Info Icon | | | The icon is now blue to stand out more as a button. |
| Drag Icon |   |   | The icon is now vertical. |
| Shift Info Text | | | The size of all the text (except the employee's name) in all cells now matches. |
| Employee Name Text |   |   | The size of the text for employees' name has been increased. |
| KPI Text Color | | | Text is now blue to more-clearly display hyperlinks, and the selected item is darker. |
| Tool Tips |   |   | The tool tips throughout have been updated to match branding. |
| Header Icons |   | | The icons are now blue, and the Tools item has been renamed to "Menu." |
Scheduler - Create House Shift
From the new Menu option, you are able to create House Shifts by clicking Create House Shift.  You can still double-click a cell to display the Add Shift modal or use the keystroke ALT+CTRL+H (PC) or Command+Option+H (Mac).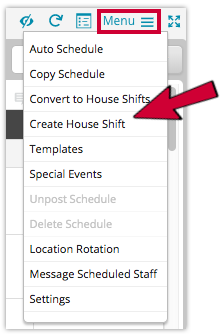 Welcome Sheet Updates
Both the English and Spanish version of the Welcome Sheet has been updated to include the new app icon.  This includes the HS Team-specific version as well.