Add a custom task to your location's task lists in the DigitalRedBook. You can add it to today's list, or add it to recur in the task list going forward.
Follow these steps to add a new custom task:
Tap the task list that you want to add a task to.
Tap Design Me at the top of the task list.
Tap + Add New Custom Task.

Enter the name of the task and select the input control for each task list column.
?  If you don't need all of the columns, set the column drop down menu to Empty.
?  The only options available for column input control are the options already in use for that column in the task list.
?  If you are adding a drop down list to the task, add the list items in top-down order. Don't duplicate items in the list.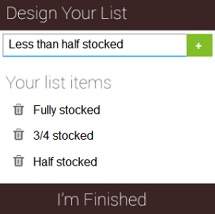 Save your task, then specify whether this is a one-time task or if it should be added to the list going forward.
!  Task settings cannot be changed after you tap Save. If the configuration needs to be changed, you will have to delete the task.