Follow these steps to search for tasks:
Find tasks by completion status by tapping the magnifying glass at the top left of the DigitalRedBook app.

Tap one of the filters to further focus your results. Tap Search at the bottom to see the results.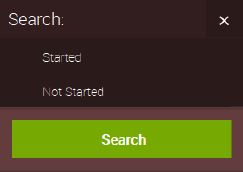 When a search filter is applied, you will see the Clear Search Filter message above your list. Tap the message to remove the filter and display all tasks.