The Task area of the DigitalRedBook app give you and your coworkers a quick and easy way to manage a shift. No more paper checklists or forgotten to-do lists. Enter shift metrics, complete shift tasks, flag tasks for follow up, communicate with other shift managers, and more using your mobile device or computer.
Task Lists
Tap the Tasks menu option to see all of the task lists for the day. The menu icon will turn blue, and task lists will display in a list. Your store might have daily, weekly, monthly, or one time task lists. You might also have lists for recording shift metrics. Tap each list to view and work on it.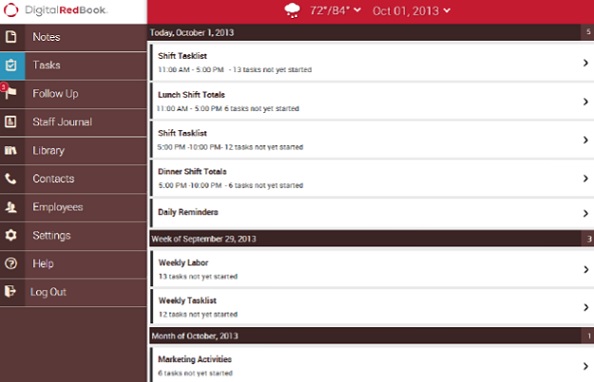 The number of task lists in a group can be seen in the group bar.
If the task list is time sensitive, the time frame task list completion appears under the task list name.
!  If the task list is not completed in time, the list bar will turn yellow to bring it to your attention.
You can see a count of tasks remaining for the list. Completed lists are highlighted in green.