You can elect to receive a daily email recap of the work day information entered in the DigitalRedBook. You'll receive an email after the close of each business day, giving you a run down of the day. You can also add you own comments to any notes from the day directly from this email. This scheduled email report is called the Daily Drill Down.
Follow these steps to subscribe to the Daily Drill Down report:

Log into your Digital

Red

Book account and select the Settings tab.
Select My Account. Please verify that your email address is correct on this page.
Next, select Subscriptions from the Settings subtabs.
Subscribed check box for the Daily Drill Down report on this page to start receiving the emails after the end of each work day.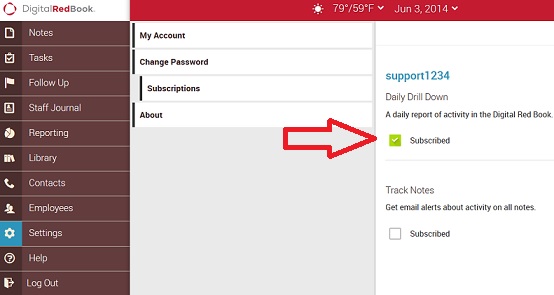 ! To turn off these email updates, return to the Settings tab and select Subscriptions. Un-check the Subscribed box. Alternatively, you could select the unsubscribe link in one of the actual emails.