Save reports in the DigitalRedBook so you can easily run them again.
Follow these steps to save reports:
When you are ready  to save your report tap Save.

Name your report, and give it a description (optional).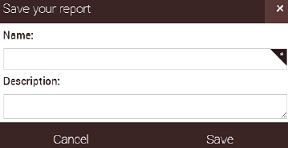 Select Save to add the report to your location's report list.
You also have the ability to Edit existing reports and Save them as new reports.

!  Saving a report saves the report criteria and filters, not the report results. You can always adjust the criteria to show additional information.