Managers have the ability to search for specific contacts by name or filter group in the DigitalRedBook.
Follow these steps to find a contact:
Find Contacts easily by tapping the magnifying glass at the top right corner of the app. The search options will populate.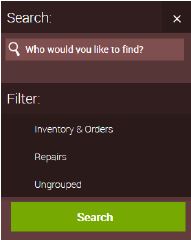 Enter search words at the top and tap the Search button to find contacts relevant to that search term.
Tap a filter to further focus your results. Tap Search at the bottom to see the results.
When a search filter is applied, you will see the Clear Search Filter message appear above the contact list. Select this to remove the filter, and display all contacts again.