The Staff Journal area of the DigitalRedBook app gives you and other managers a quick and easy way to communicate staff issues. No more stuffed file folders or lost memos. Staff Journal entries are centralized, organized, and searchable. Read entries, add comments, and enter new entries using your mobile device or computer.
Follow these steps to read staff journal entries:
Tap the Staff Journal menu option to read Staff Journal entries.

The menu icon will turn blue, and entries for today and the past week will display in the list.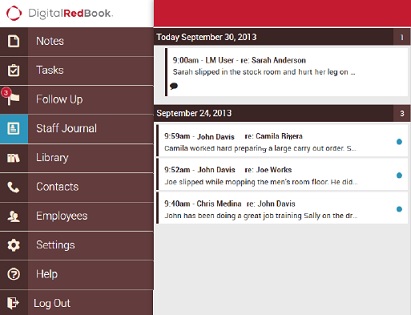 Entries are grouped by day, and you can see a count of entries for each day on the right side of each day bar.

Unread entries are marked with a blue dot.
Entries that have comments have a comment bubble.
Tap an entry to see the detail. The entry will bump in the list, and the details will be displayed.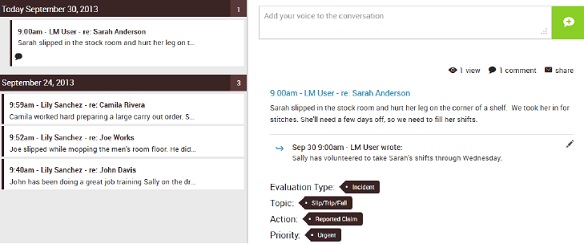 See the entire text of the entry and all of the related comments.
The evaluation type, topic, action, and priority are shown as tags at the bottom of the entry detail. The type information on the entry depends on the evaluation type.
Tap the View icon to see who has read the entry.
Tap the Share icon to forward the entry to someone via email.