Stay in the know by creating custom Notes Reports in the DigitalRedBook. It will display any notes meeting the criteria you select.
Follow these steps to create a notes report:
Tap the Reporting menu option.


Tap Notes.
Pick the time period for the report results.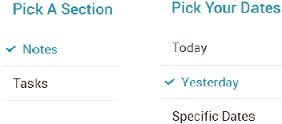 Change the report criteria if you need to.
Tap View to run the report.