You can create custom Task Reports in the DigitalRedBook to keep track of various metrics  for your location(s).
Follow these steps to create task reports:
Tap the Reporting menu option.


As you progress through the report building wizard, each selection you make will turn them blue. A fly out will appear on the right hand side, indicating you can move to the next screen.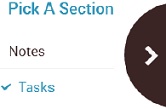 Pick the time period for the report results.
A list of active task lists for the time period chosen will appear. In case you need to report on inactive task lists, you can use the drop down menu to expand the list.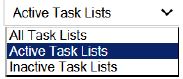 At the end of the report building wizard, you will see what criteria you selected. If you need to make any changes, simply tap the criteria to be taken back to that step in the wizard.

Tap View to run the report.