You have the ability to add attachments to notes in the DigitalRedBook.This is a great way to add additional documentation for your staff members to view. You can attach picture from your mobile device easily with this feature.
However, this attachment note feature is only available on the DigitalRedBook apps. Managers will not see this feature if they are logging into the product through an internet browser on their desktop. They will be able to add these attachments to notes from their iPads and mobile phones.
Additionally, remember that you cannot edit notes from past dates, and this includes adding attachments to them.
Follow these steps to add an attachment to a note:
Login to the Digital

Red

Book app.

Select the Notes tab.

Select the +Add a Note button at the top of the notes list on this page.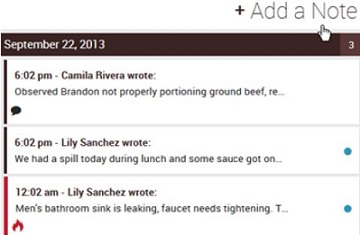 Once you have written and saved your note, you will see the Attach, Edit, and Delete options for your new note.
If you would like to attach a picture, tap the Attach button.
You will be prompted to either take a picture or add one from your gallery.
After you've attached the picture you can then save the note for your staff members to see!