You can receive running updates of the day's DigitalRedBook notes by subscribing to Track Notes. Each time the day's Notes are updated or comments are added, you'll get the latest in your email inbox.
Follow these steps to subscribe to track notes:
Select the Settings tab and the My Account sublink.
Verify that your email address is correct.
Next, select the Subscriptions subtab.
Select the Subscribed check box to start receiving notes updates to your email inbox throughout the day.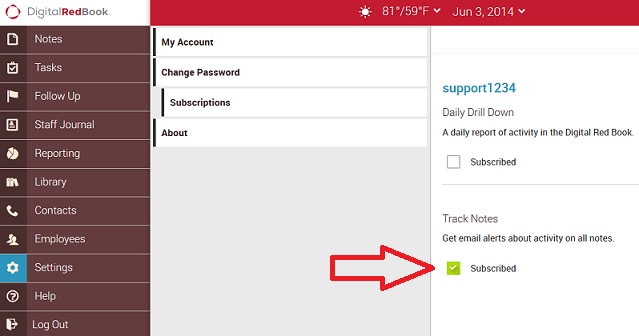 To turn off notes emails, return to the Subscriptions page and un-check the Subscribed box. Alternatively, you could select the unsubscribe link in one of the actual emails. You will no longer receive the email updates.
When Notes are added, edited, or commented on, you will receive an email. You can add a new comment straight from your email by selecting Add your voice.