You can add your own documents to the Library for each location. Add files stored locally or files stored in the cloud. Files up to 2 MB can be uploaded. 
DigitalRedBook supports many file types:
MC Office files: Word, Excel, Powerpoint
PDF files
Images: BMP, JPEG, GIF, PNG
Video files: AVI, MP4, MPEG-2, 3GP
Follow these steps to add a document:
Tap + Add a Document at the top of the Library list.
Enter the document name and select a category.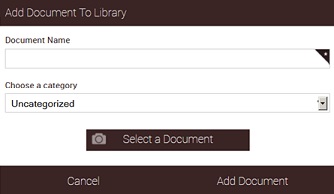 Tap Select a Document to access your files on your device or stored in the cloud.