Select the release feature from the table below to be taken directly to that section of the release note.
Release date for all features: August 21st, 2023
WebClock Mobile Pre-Consent Scheduler Badge
Enabled by Default? - No

Set up by customer Admin? - N

Enable via Support ticket? - Yes

Affects configuration or data? - No

Roles Affected: -

Scheduling managers at Web Clock customers using Web Clock Pre-Consent
What's Changing?
We are adding a badge to the mobile roster if an employee has pre-consented via the Web Clock to work additional time if needed for that business day.
The badge will appear under the employee's name: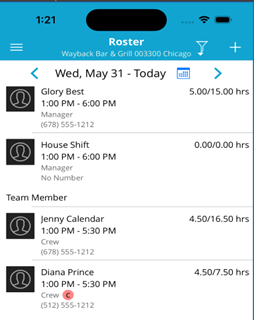 Reason for the Change
This will give users with access to schedule employees the ability to see if the employee has pre-consented to working an extended shift while viewing the employee roster.
Customers Affected
All Time and Attendance Customers using Web Clock Pre-Consent