Summary
Select the release feature from the table below to be taken directly to that section of the release note.
Feature 1
Good Faith Estimates will now display within employee personal settings.
Release date for all features: August 17, 2023
Good Faith Estimate to the Employee Personal Settings
Enabled by Default? - No

Set up by customer Admin? - No

Enable via Support ticket? - Yes

Affects configuration or data? - Yes

Roles Affected: - For Time and Attendance Customers using Good Faith Estimate
What's Changing?
 Adds Good Faith Estimates to the Personal Settings page so employees can view their current and upcoming GFEs
 Will be enabled if the client has Good Faith Estimate enabled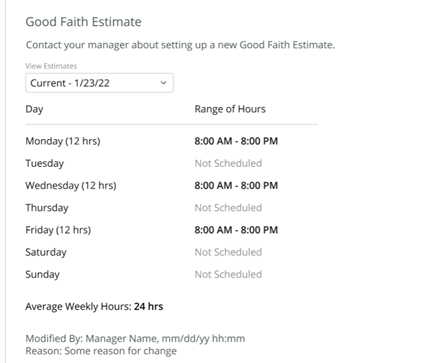 Reason for the Change
Good Faith Estimates are state specific labor laws that require managers to provide employees with an estimate for specific days and hours they may be expected to work, this functionality adds this information to the employee personal settings page to provide a better user experience.
Customers Affected
Time and Attendance Customers in locations that require Employers to provide Good Faith Estimates to their employees.